Mini Comic Fest.
feat. Black Kirby
Join us for a day of discussion and celebration!
The first Culver Center of the Arts Mini Comic Fest brings together artists, writers, creators, and scholars to discuss comics, culture, and industry.
The event will feature panel discussions and the Black Kirby exhibitions (
Ebon: Fear of a Black Planet
 and 
Black Kirby X
).
Ebon: Fear of a Black Planet
1:00-2:00pm
John Jennings (Black Kirby), Stacey Robinson (Black Kirby), Larry Fuller (Ebon Creator)
Women of Color in Comics
2:30-3:30pm
Jazmine Joyner (Editor for IDW), Angélique Roché (Marvel), Shawneé Gibbs and Shawnelle Gibbs (Cartoon Network)
The Business of Comics
4:00-5:00pm
Rodney Barnes (Killadelphia), Brandon Easton (ABC's Agent Carter), Keithan Jones (KID Comics), Regina Sawyer (Lockett Down Productions), and Robert Roach (Menthu).
Speaker bios
Rodney Barnes
Rodney Barnes is an award-winning writer, producer, and comic book creator whose vibrant and emphatic creative voice has established him as a Hollywood mainstay.
Barnes is currently an executive producer and writer for HBO's new series WINNING TIME: THE RISE OF THE LAKERS DYNASTY, which chronicles the professional and personal lives of the 1980s Showtime Lakers during the team's wild and fast-paced golden years.
Barnes has a number of projects in different stages of development including; creating-showrunning-writing THINGS THAT MAKE WHITE PEOPLE UNCOMFORTABLE, a TV show based on Michael Bennett's book of the same name in development with John Wells at HBO Max; writing a creative feature for New Regency with Jordan Vogt-Roberts attached to direct; and writing a miniseries based on the life of golf great Tiger Woods.
In addition to TV, Barnes is a veteran comic book creator who earned an Eisner Award nomination for his critically acclaimed graphic novel Killadelphia, which now has a television show in development at Levantine TV. Barnes recently launched his own comic studio and publishing imprint, Zombie Love Studios, a creative space dedicated to storytelling from BIPOC perspectives in unique formats. Barnes has released a number of graphic novels including Army of Darkness, James Bond Himeros, Marvel/Lucasfilm's Lando: Double or Nothing, Lion Forge's Quincredible, Marvel's Falcon, Secret Empire, and has expanded into Substack with Nita Hawes' Nightmare Blog, Elysium Gardens, Johnny Gatlin, and 20° Past Rigor. Barnes also has an adaptation of the cult horror classic Blacula on the way.
Brandon Easton
Born and raised in Baltimore, Maryland, Brandon attended Ithaca College and then earned his MFA in Screenwriting at Boston University. After teaching U.S. History and Economics in NYC public schools, Brandon relocated to Los Angeles and broke into the TV writing scene with the Warner Bros. Animation 2011 reboot of THUNDERCATS followed by TRANSFORMERS: RESCUE BOTS. His original graphic novel SHADOWLAW won the 2013 Glyph Award for Best Writer. Won five 2014 Glyph Awards and also nominated for an Eisner Award for the African-American inspired WATSON AND HOLMES graphic novel. An alumnus of the 2015 Disney/ABC Writing Program, Brandon wrote on season two of MARVEL'S AGENT CARTER and was commissioned to adapt the Japanese horror franchise VAMPIRE HUNTER D into a TV series.
Recent credits include JUDGE DREDD: FALSE WITNESS, MARVEL ACTION SPIDER-MAN, TRANSFORMERS: GALAXIES as well as the hit Netflix TV series TRANSFORMERS – WAR FOR CYBERTRON: SIEGE. Brandon was a writer for a variety of DC Comics series including MISTER MIRACLE: THE SOURCE OF FREEDOM, SUPERMAN: TRUTH & JUSTICE, SUPERMAN: RED AND BLUE and BATMAN: LEGENDS OF THE DARK KNIGHT.
Brandon spent the last two years at Blizzard Entertainment, writing content for OVERWATCH 2 and HEARTHSTONE. In Spring of 2022, Brandon was hired to adapt the acclaimed African-superhero series IYANU: CHILD OF WONDER into a television series for Roye Okupe and YouNeek Studios.
Larry Fuller
Larry Fuller was one of only three Black cartoonists working in the historic Underground Comics Movement in San Francisco and in 1969 he made history by creating one of the first costumed Black independent superhero characters. Ebon was published in 1970 and, although only one issue, the comic was a landmark in Black creative thought, political commentary, and can be seen as a formative work in what is now called Afrofuturism.
Fuller created Ebon initially while stationed at Minot AFB in North Dakota. A long-time comics fan, one of the many genres he enjoyed was superheroes, though he continually despaired that none of them looked like him. He went on to publish over a dozen other standard size underground comics as well as an uncounted number of x-rated digest and mini comics. He last published a comic book in 1992, at which time he began collaborating with the late Richard "Grass" Green which entailed inking several of his stories. Since that time Fuller has maintained a strong engagement with the creative process in general and is an avid supporter of comic creators.
Shawneé Gibbs
Shawneé Gibbs is a Los Angeles-based writer and producer, who specializes in creating content for television, film, comics and graphic novels. She's currently a Lead Writer for Cartoon Network, and has served as a Staff Writer for Warner Bros. Animation, Dreamworks Animation and Mattel Studios.
Along with her writing partner and sister, Shawnelle Gibbs, she's authored the YA comic book series Fashion Forward and the Glyph Award-nominated adventure series, The Invention of E.J. Whitaker. Her upcoming YA graphic novel, Ghost Roast, will be published by HarperCollins in Fall 2023.
Shawnelle Gibbs
Shawnelle Gibbs is a writer from Oakland, California currently based in Los Angeles. She's the Co-writer of the comic book series' The Invention of E.J. Whitaker and Fashion Forward. Her upcoming graphic novel "Ghost Roast" is scheduled for release in 2023 through HarperCollins. She has served as Lead Writer for Cartoon Network, and has also written for Dreamworks Animation, Warner Bros. Animation, and Mattel Studios. Shawnelle is a member of the Academy of Television Arts & Sciences, Writers Guild of America West, and Women in Animation.
John Jennings
John Jennings is a Professor of Media and Cultural Studies at the University of California at Riverside. Jennings is co-editor of the Eisner Award-winning collection The Blacker the Ink: Constructions of the Black Identity in Comics and Sequential Art. Jennings is also a 2016 Nasier Jones Hip Hop Studies Fellow with the Hutchins Center at Harvard University. Jennings' projects include the horror anthology Box of Bones, the coffee table book Black Comix Returns (with Damian Duffy), and the Eisner-winning, Bram Stoker Award-winning, New York Times best-selling graphic novel adaptation of Octavia Butler's classic dark fantasy novel Kindred. Jennings is also founder and curator of the ABRAMS Megascope line of graphic novels.
Keithan Jones
Keithan Jones is the founder and owner of KID comics, an independent publisher based in San Diego, California. The mantra behind KID is, "The Kid In You Never Dies". It is a constant reminder that our childhood spirit is the core of who we really are no matter how old we get.
"My Dad introduced me to comics and took me to see the original, Star Wars. That experience blew my mind. I was hooked into comic-culture ever since." However, growing up reading comics, Jones noticed a lack of ethnic diversity in the stories. "None of my favorite characters were Black or the main protagonist. They were sidekicks at best." He wanted to change that one day.
"I wanted to see legitimate bad-azz superheroes of color that appealed to all demographics." In 2015, Jones established KID comics and his first publication, The Power Knights, which he originally created in 1982 as a child. He went on to create, San Diego's Black Comix Day: Heroes Rise, a Black History Month celebration of Afro-centric comics and the artists behind them. Keithan regularly features his childhood creations, The Power Knights at conventions around the country. The Power Knights can be purchased at kid-comics.com
WEBSITE: kid-comics.com
Instagram: kjkidcom
Twitter: kidcomicskj
FB: kidcomicsonline
Jazmine Joyner
Jazmine Joyner (They/Them) is an Associate Editor at IDW Publishing, and a freelance writer. They consume copious amounts of books, television, and movies; All while writing furiously. Jazmine is working on their graphic novel debut The Story Eater slated for spring 2024.
Stacey Robinson
Stacey Robinson is an Assistant Professor of graphic design at the University of Illinois at Urbana-Champaign. He was a 2019-2020 Nasir Jones Hip-Hop Fellow at Harvard University's Hutchins Center for African & African American Research who completed his Master of Fine Art at the University at Buffalo in 2015. For the last several years he has traveled internationally discussing the complexities decolonized future spaces. As one half of the collaborative team "Black Kirby" with artist John Jennings, Stacey creates graphic novels, gallery exhibitions, lectures, and workshops that use world-building strategies to imagine new worlds inspired by Design, Hip-Hop, the Arts and Sciences, and diasporic African belief systems. Latest Exhibited works include 'The Black Angel of History', at Carnegie Hall, and 'Futures' at the Arts + Industries Building at the Smithsonian. His latest graphic novels are, 'I Am Alfonso Jones' written by Tony Medina in 2017 is available from Lee & Low Books, and 'Across the Tracks: Remembering Greenwood, Black Wall Street, and the Tulsa Race Massacre', written Alverne Ball in 2021 is available from Abrams Books.
Angélique Roché
Angélique Roché, is a writer, attorney, journalist, producer, and host. With almost twenty years of experience, Angelique has worked in various sectors including public policy, campaign politics, corporate communications, and pop-culture-focused content creation.
As a journalist and commentator, Angélique has contributed to MSNBC, ESPN, AMC, Disney+, Peacock, SiriusXM, Harper's Bazaar, NBC News, Black Girl Nerds, Syfy, Marvel, and Nerdist. In addition to producing interviews, hosting live events and red carpets, and moderating panels she is currently the host and a producer of Marvel Entertainment's Marvel's Voices podcast and a contributor to and consulting editor of the Marvel's Voices comics anthology series (2020 – present).
She is the co-author of the forthcoming non-fiction book, My Super Hero is Black from Marvel and Simon and Schuster/Gallery Books and will be featured in Titan Books' upcoming Marvel's Black Panther: Script To Page (available 10.4.22). Angélique is also the lead writer on the Black and Blue Story Project's teen-focused graphic novel series engaging the public in creative conversations about the future of policing. It is currently in development.
Angelique's credits include being a producer on Marvel's scripted podcast, Wolverine the Lost Trail, and writer/producer on ESPN's Marvel's Arena of Heroes. She is also a regular producer of video content for issue and policy campaigns for various organizations including The Ms. Foundation for Women, Fair Fight Action's Civics for the Culture, the Frontline Election Defenders, and M4BL.
Regine Sawyer
Regine L. Sawyer is the writer/publisher at Lockett Down Productions; a cutting edge small press company specializing in Horror and Sci-Fi comics. She is also the Coordinator and Founder of the Women in Comics Collective International. It's an organization that supports marginalized voices working in the comic book industry. In addition, Regine has written articles, essays and stories for such companies as Marvel Comics, DC Comics, A Wave Blue World, Z2 Comics, Lion Forge, Graphic Policy, The Freelancer's Union, Comic Book Resources and Time Magazine.
Robert Roach
Diversity. Inclusion. These are words that have taken on new meaning in the last year. Suddenly, Hollywood is taking notice of black artists and creators. But creative barriers have long been broken and this movement started a long time before "Black Panther" and HBO's "Watchmen" hit our screens, both large and small, and diverse characters in our favorite comic books' pages.
Over the last two decades, I've worked as a comics creator (artist, writer and publisher), concept illustrator and storyboard artist for numerous live action and animated projects. I participated in Warner Brothers' management trainee program and as an instructor at Otis College of Art. I have also worked in the entertainment industry in a number of non-artistic jobs, such as on the daily TV show "National Enquirer Uncovered" and as a Japanese-English translator at New York Film Academy.
During the same time period, artists like myself, Brandon Easton (Marvel, DC and IDW), Geoff Thorne (Marvel and DC) and the late Dwayne McDuffie (co-founder of Milestone Media) have been part of the Black Superhero community. We gathered on message boards, at Comic Cons, independent book stores and even produced documentaries.  Easton's documentary "Brave New Souls" centers on Black comic creators, who also work in other segments of the entertainment industry. Andrew Owens' in development documentary, "Hero Talk," features a number of that influential message board's principal contributors—many of whom that have gone on to higher profiles and bigger opportunities within these industries.
In terms of my comics work, my creative content continues to be as diverse as my audience. It spans from ancient Egypt's lore to Chicago's prohibition era.  An example of this is my comic "The Roach," which won the inaugural Glyph "Rising Star" award for excellence in independent publishing. It's a throwback to old noir style stories like "The Spirit," and it pushes boundaries.  He's a vigilante style anti-hero during Chicago's prohibition period. "There are racial overtones in this story arc. The white vs. black culture is shown for all its pluses and minuses, and not just for shock value," said critic Mike Hamersky. To further bring home this idea and to feel like the era in which it is set, "The Roach" is strictly presented in black and white, with many textures & effects included. Despite—or maybe because—of this, many fellow creators say that the black and white art still feels as if it is full color.
Another of my acclaimed comics, "Menthu," is set in present day Los Angeles and based on Egyptian mythology. He's a Black hero discovering his god-like roots. In preparation to write 'Menthu,' I spent six years—off-and-on—studying various text, the 'Book of the Dead' and such. So I'm adamant about using proper names—not Greek translations of Egyptian names and places. It's a deep dive into life in Los Angeles and a chance to play around with ancient Egypt's lore.
In addition, I wrote and illustrated an action serial on Operative-dot-net, about "Ithuriel." This young Black man is a "Conan-type" warrior, and his journey traverses the African diaspora and across Asia. There are numerous references to the breadth of African and Asian ancient cultures and mythologies—especially Japan's, since I spent numerous years there and am fluent in the language.
http://operative.net/fiction-ithuriel-inception.html
Even though we "other than creators" are finally getting a chance to reach the mainstream with our works, we still face challenges with publishers who don't fully understand the culture and audience. Now that the barrier has been broken among many audiences, it's time to see what's on the other side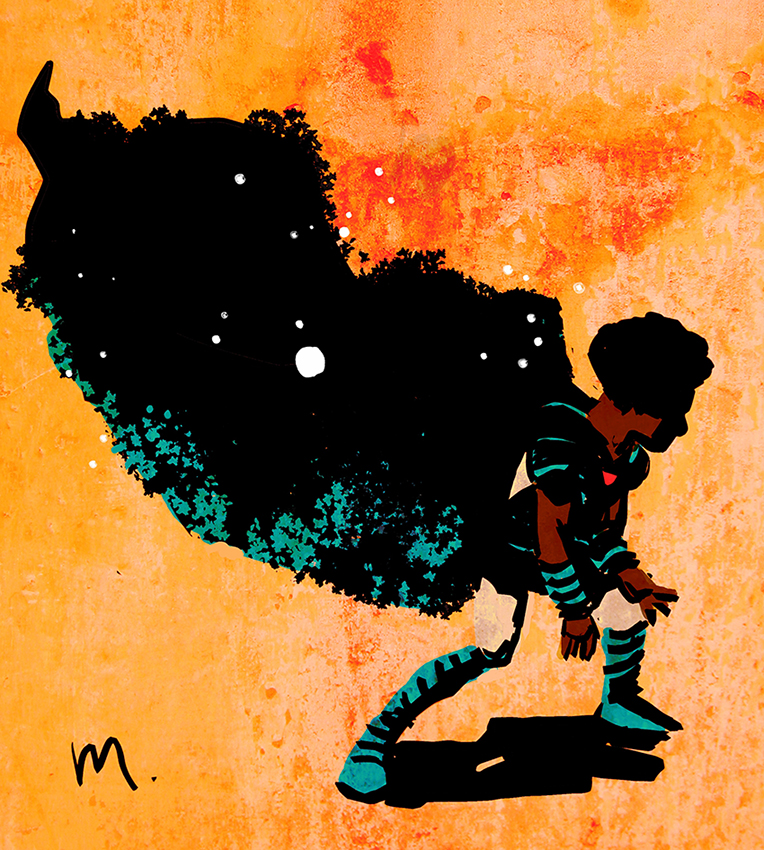 Culver Center of the Arts Mini Comic Fest is organized by Black Kirby and UCR ARTS. Black Kirby is a shared pseudonym that is Stacey Robinson (Assistant Professor of Graphic Design and Illustration, University of Illinois at Urbana–Champaign) and John Jennings (Professor of Media and Cultural Studies, UC Riverside). UCR's College of Humanities, Arts and Social Sciences and the City of Riverside provide support for UCR ARTS programs.