EBON 
Fear of a Black Planet

A (physical and virtual) project by Black Kirby
Culver Center of the Arts
March 19 – June 19, 2022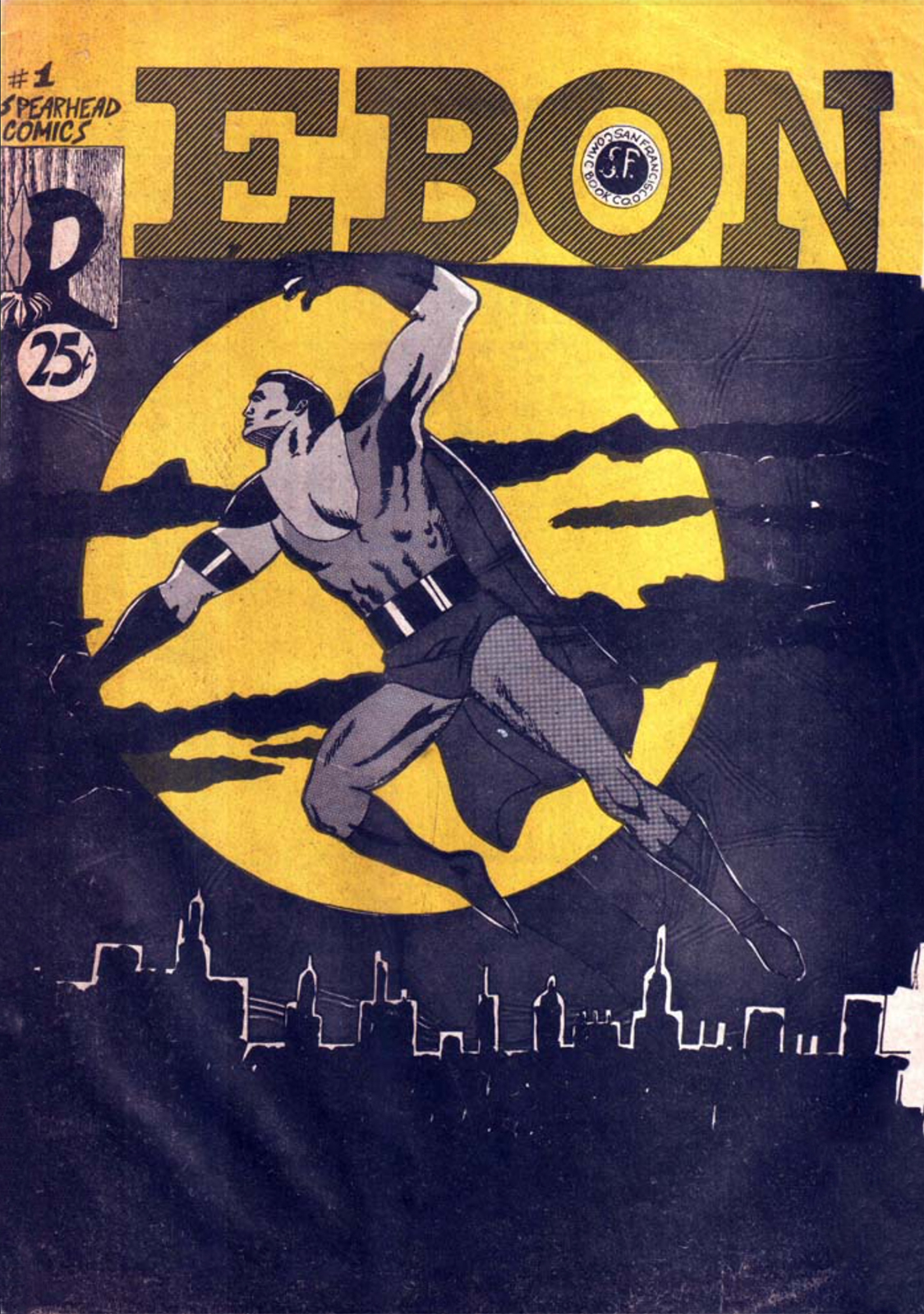 Larry Fuller is a pioneer.
He was one of only three Black cartoonists working in the historic Underground Comics Movement in San Francisco and in 1969 he made history by creating one of the first costumed Black independent superhero characters. Ebon was published in 1970 and, although only one issue, the comic was a landmark in Black creative thought, political commentary, and can be seen as a formative work in what is now called Afrofuturism.
When Black Kirby first came across Mr. Fuller's works, it was hard to not imagine the world that the main character's ancestor hailed from. In Marvel Comics' Black Panther comics, King T'Challa hails from a technologically advanced, unconquered African nation. Jom, the ancestor of Valentine Jones aka Ebon, is an alien from a planet where everyone is Black. Black Kirby was totally enthralled with the narrative potential and two years ago they began to work directly with Mr. Fuller to help push Ebon and his world into bold new directions.
One of the tenets of Black Kirby as a collective and creative engine is collaboration. It fuels the heart of the project and challenges traditional ideas around art production. Black Kirby is highly interested in how the digital nature of Hip Hop intersects with the creation of visual art. They also are interested in the salvaging and archiving of foundational sequential art like Larry Fuller's Ebon for future generations.
This critical curatorial practice is indexed by Black Kirby's formal experiments with various juxtapositions of myriad visual texts and methods of making. Black Kirby, under the guidance and collaboration of Mr. Fuller, has managed to create the beginning of a new world that Ebon can have his adventures within and they hope the audience enjoys the visual play and experimentation that comes from the depths of the Black imagination.
Ebon was conceived as an analog for one of the first superheroes; Superman. He was able to fly, had super speed, and super strength. Ebon was a standard superhero in that regard. However, in the story, he was able to gain strength from darkness. This allowed him to defeat the Nytan named Oju. Black Kirby re-imagined this as a "Black safe space" that empowered Ebon and gave him an advantage. The space manifested itself in the form of dark force field that emanated from his costume. This gave a bit more functionality to the cape. Another aspect of Ebon was that he has an immortal heart in his body. Black Kirby decided to give him a red symbol on his chest that now would produce a red energy that could be used as an offensive weapon. The idea was that the power of pure emotion coming from The Heart of Jom could be harnessed. Black Kirby also imagined that, with training, he could hear The Voice of Jom and that this voice could act as a conscience to guild Ebon through his adventures. Ebon's new costume would reflect a more modern take on the superhero and dial into the idea that this garb was actually functional on the planet Nyta and that it would be a common design on Jom's home planet.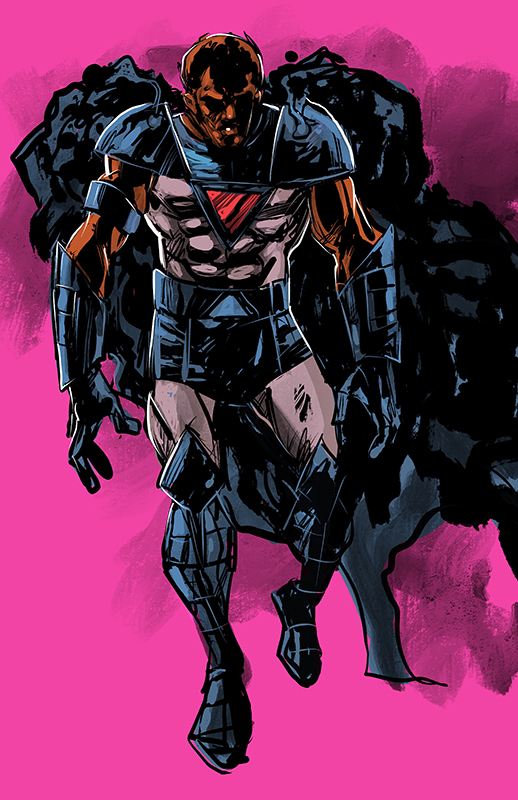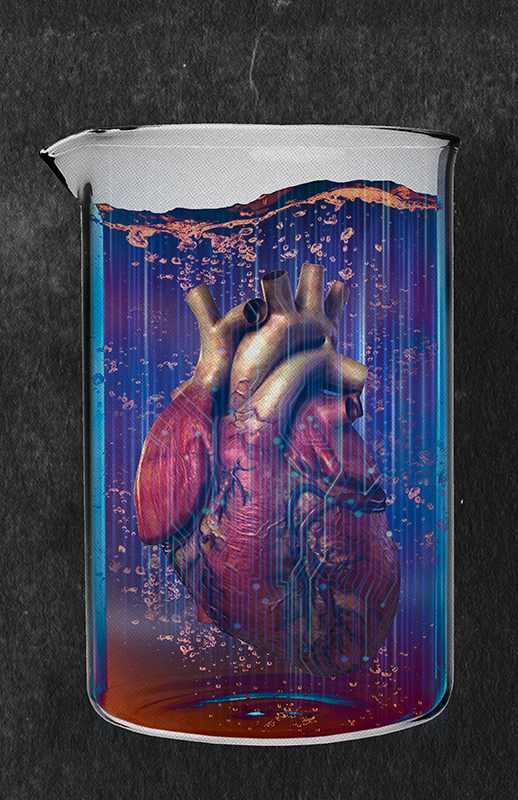 One of the things that intrigued Black Kirby about Ebon was that his powers came from an implanted immortal heart from his ancestor Jom. The original conception of Ebon by Mr. Fuller was that he would be more of a vigilante and police criminals on Earth. However, Black Kirby couldn't stop thinking of how this character could be far more interstellar and cosmic in nature. Their conception of Ebon began to be very much infused with ideas around Afrofuturism and comics like Marvel Comics' Nova or Captain Marvel along with cartoons like Space Ghost.
VARIANTS & CHARACTER STUDIES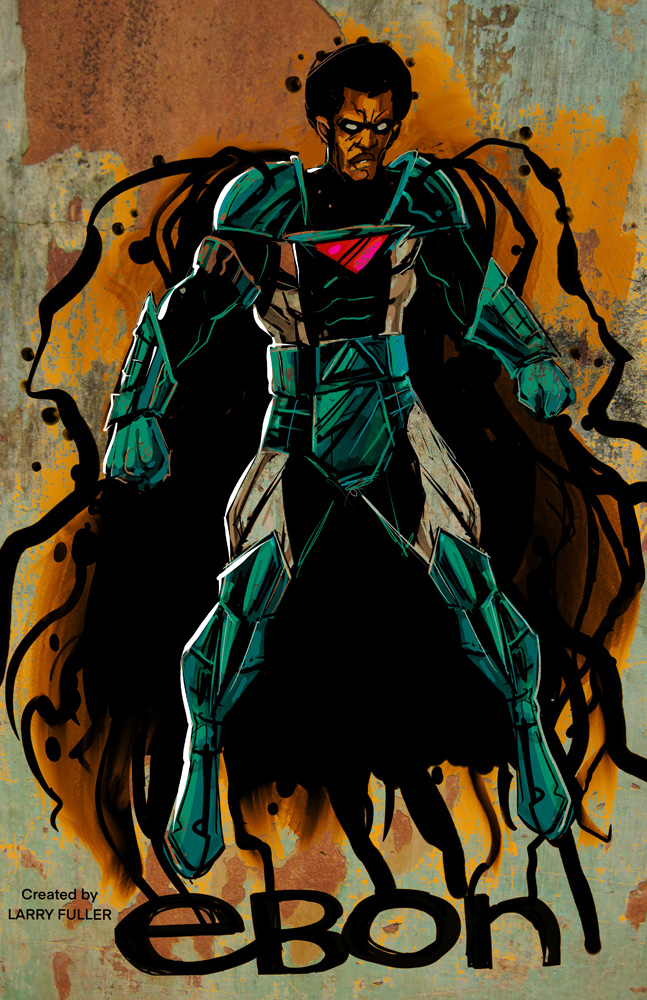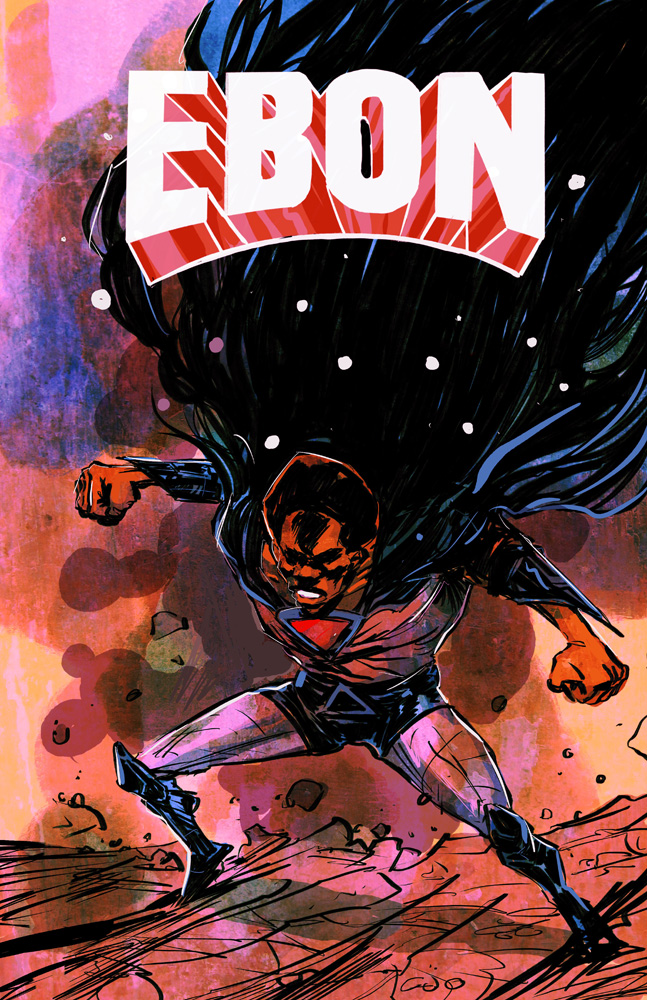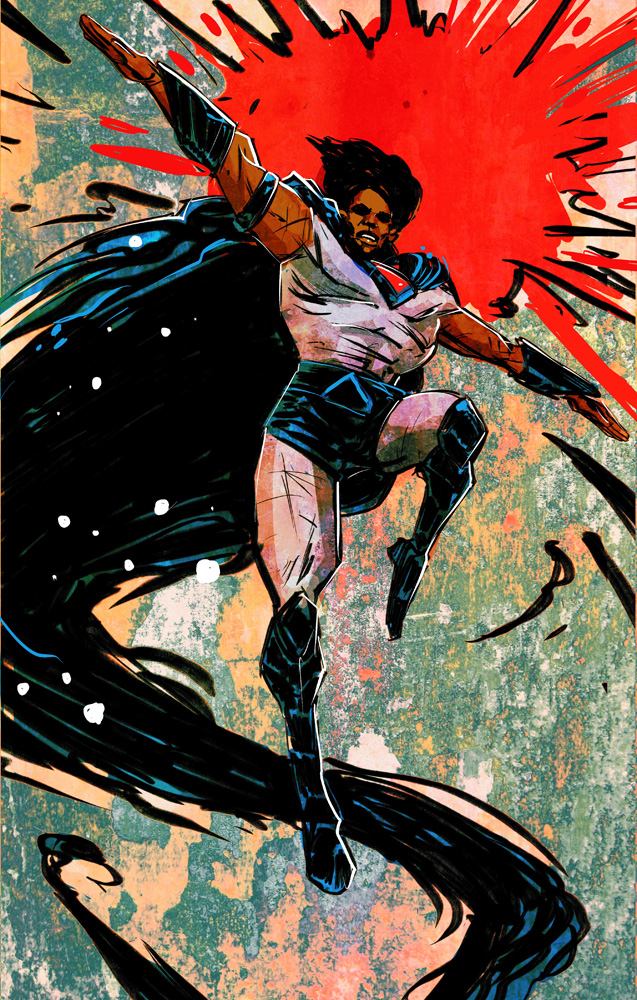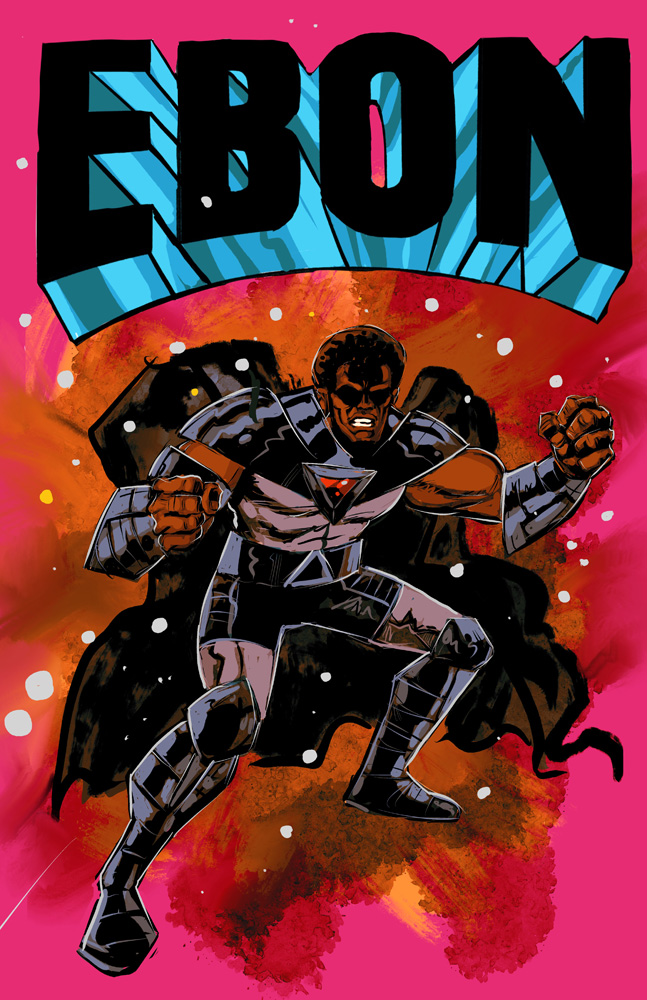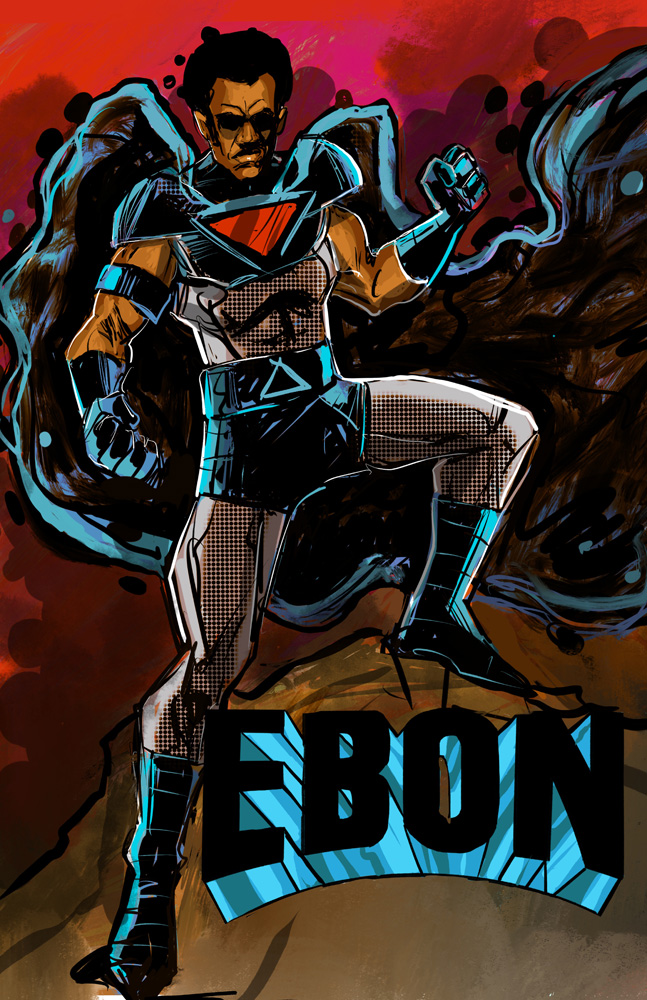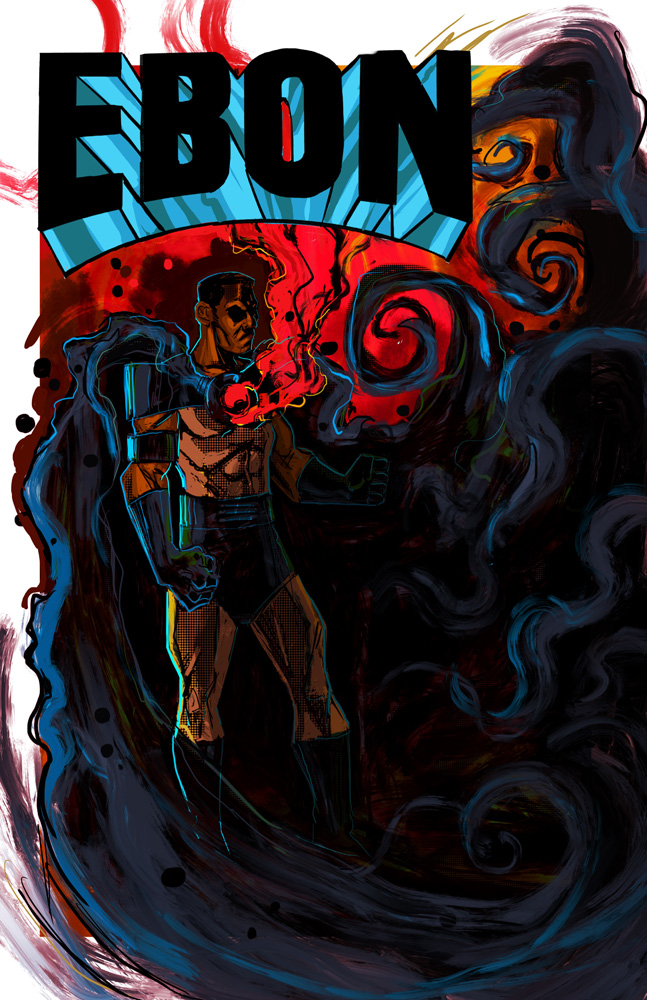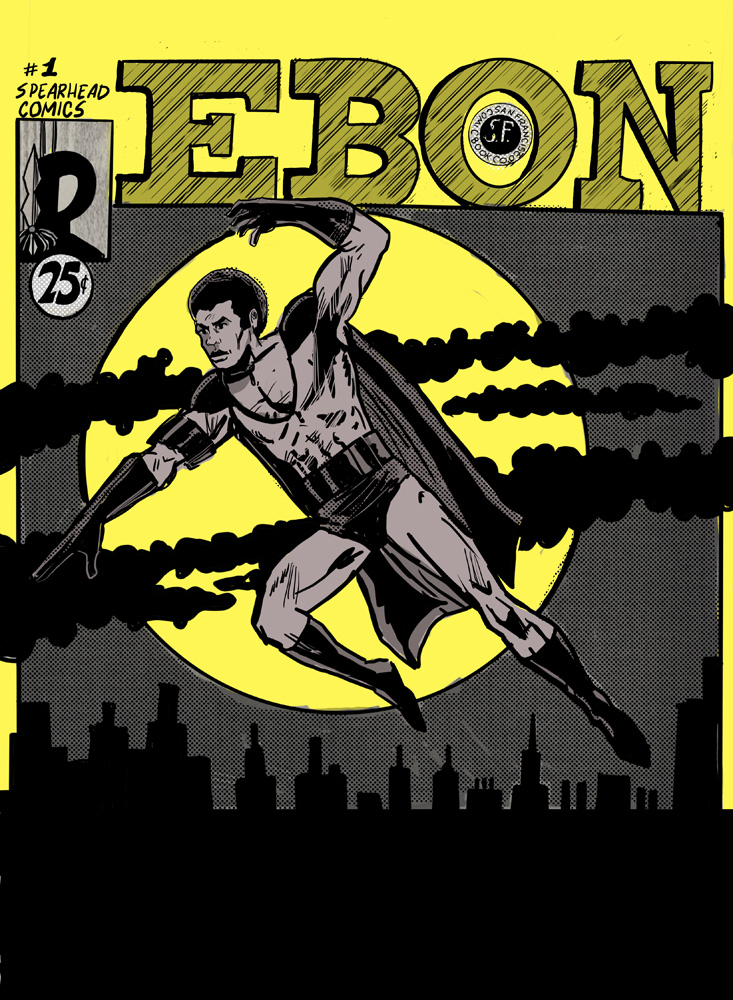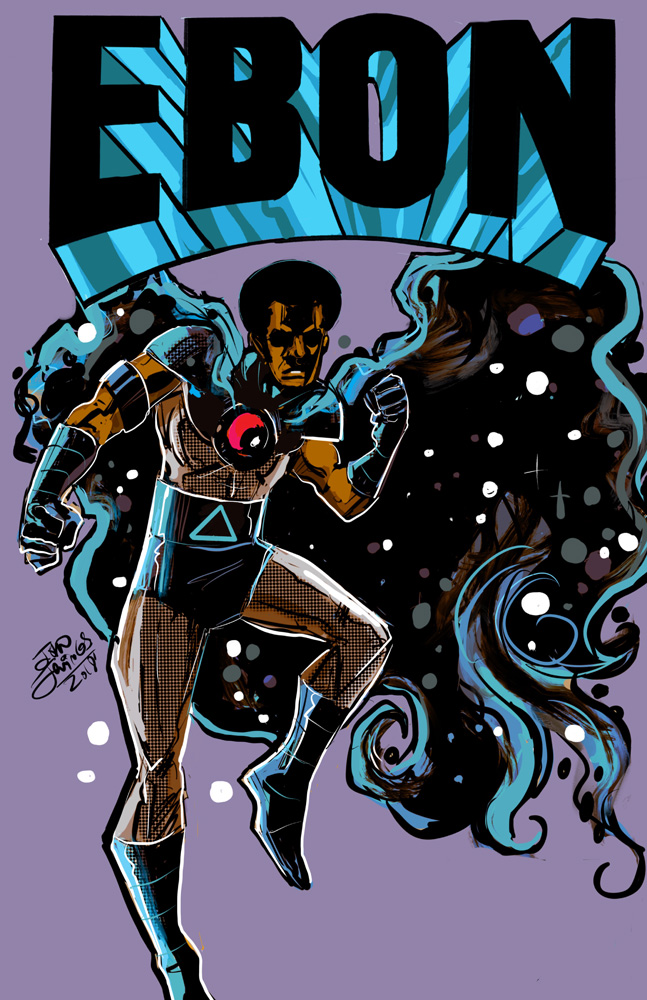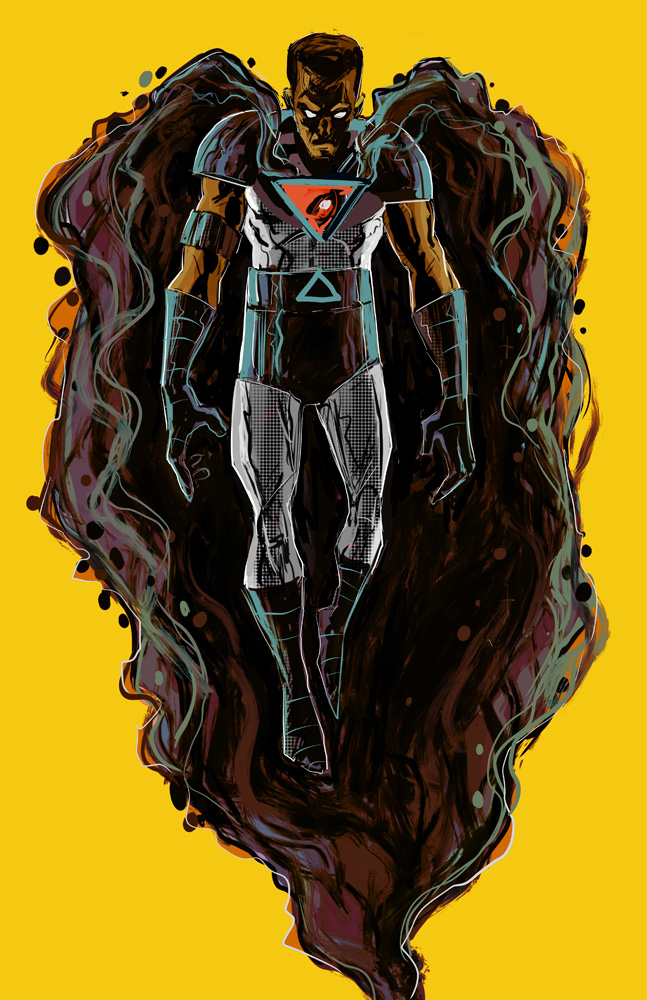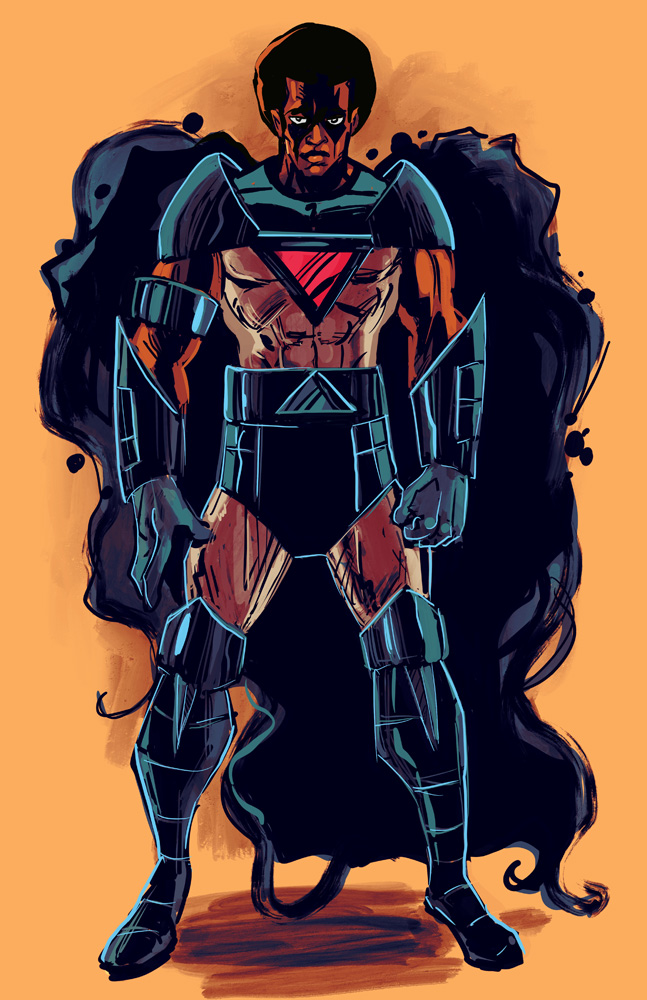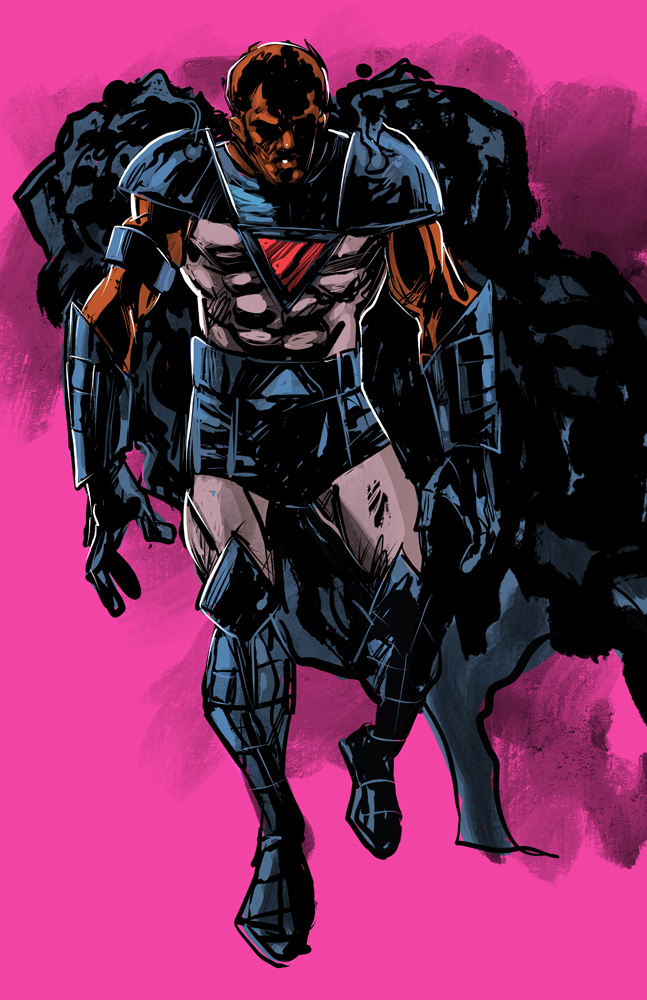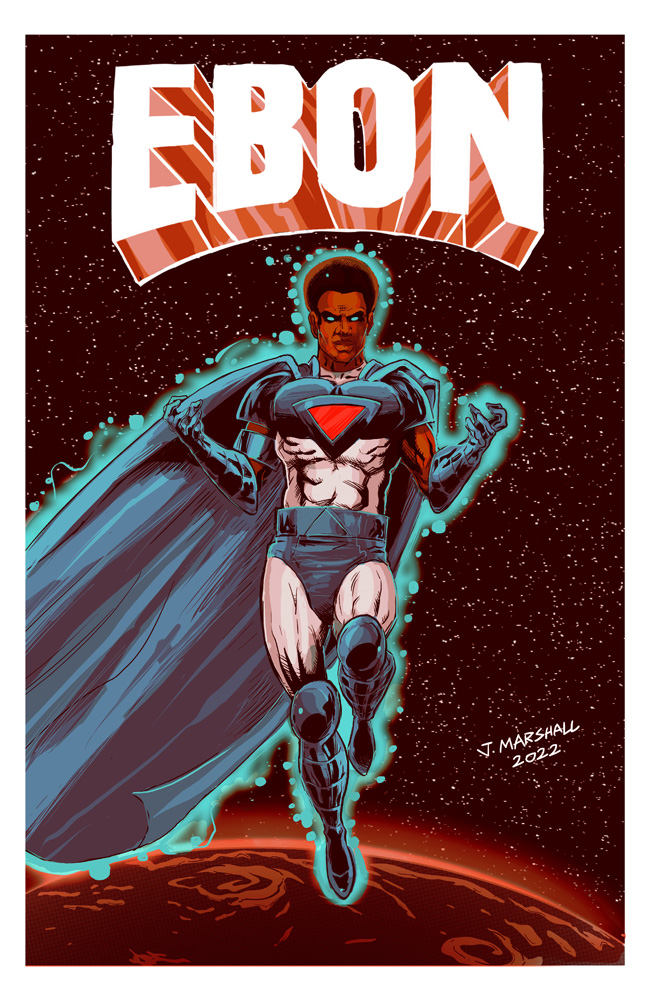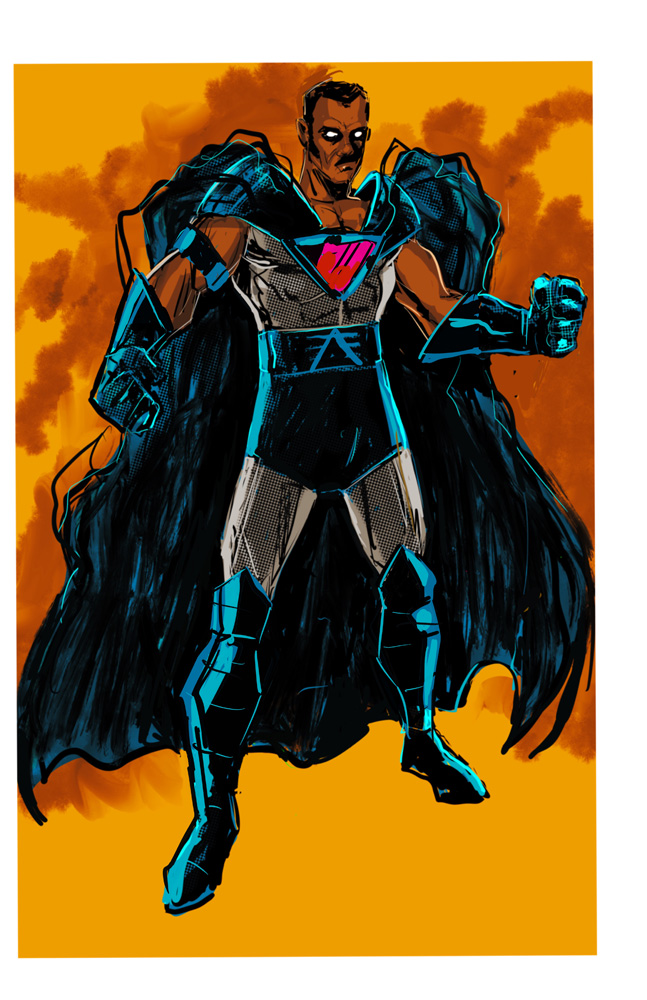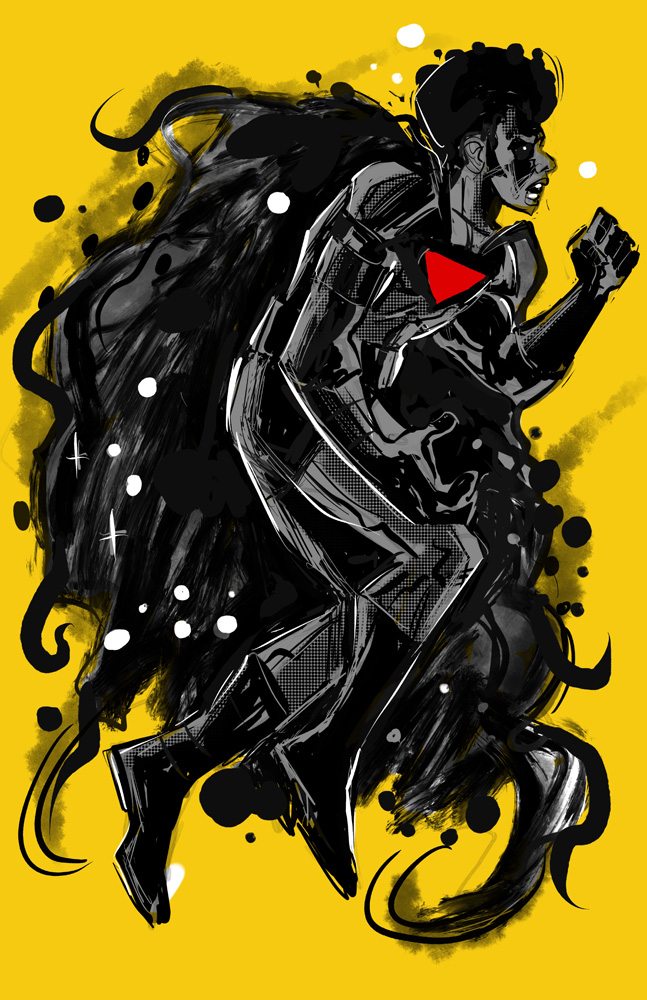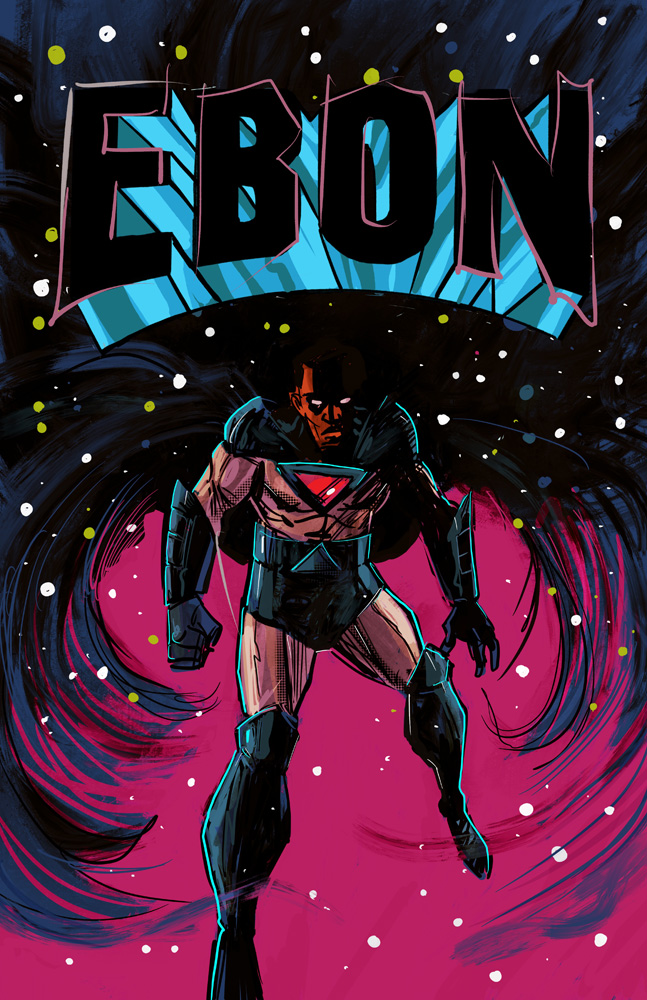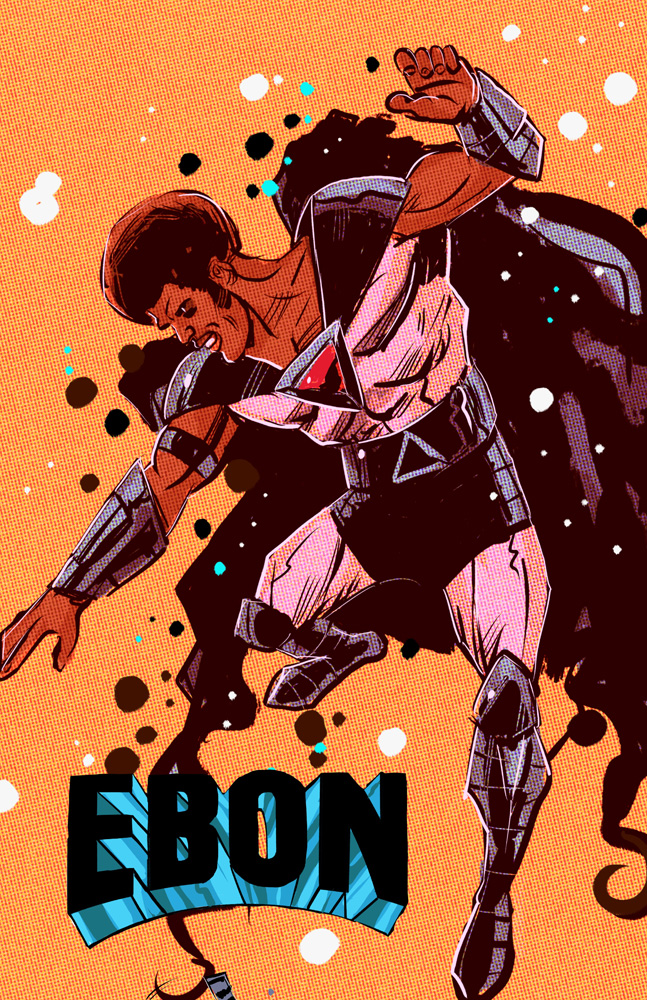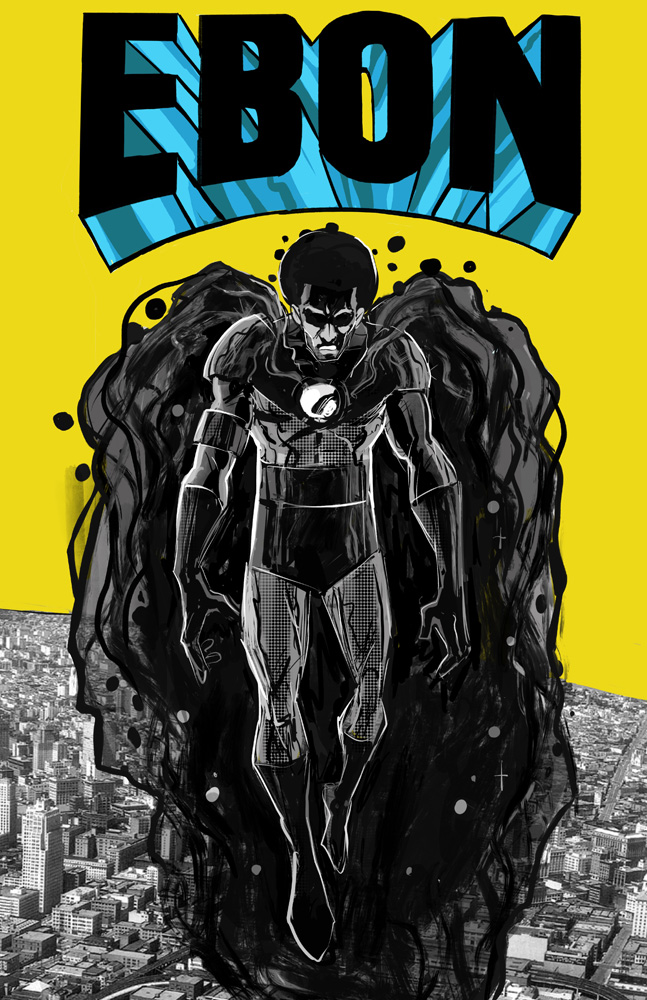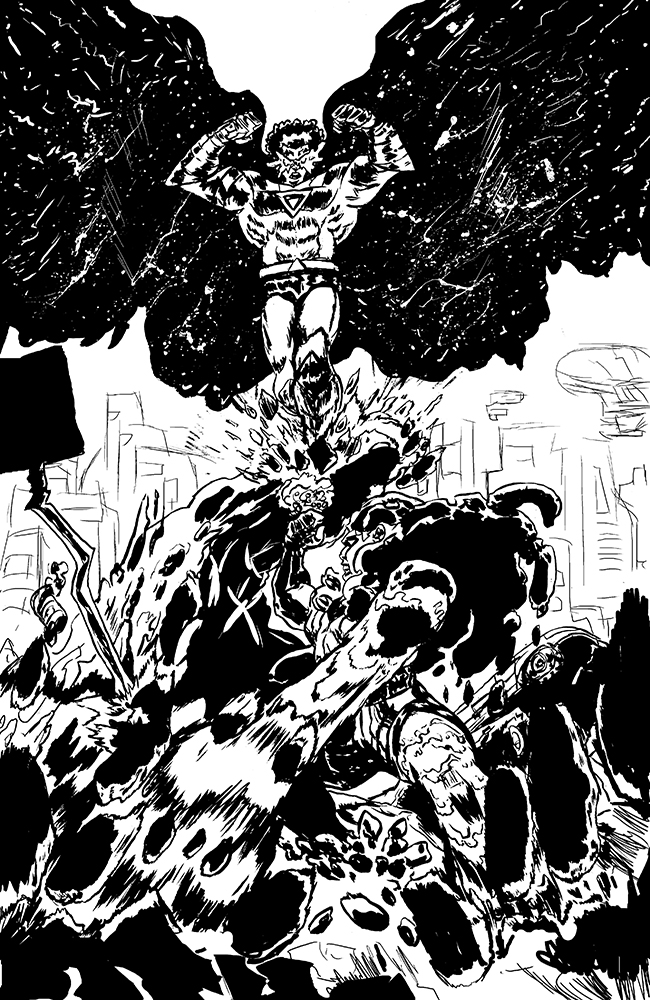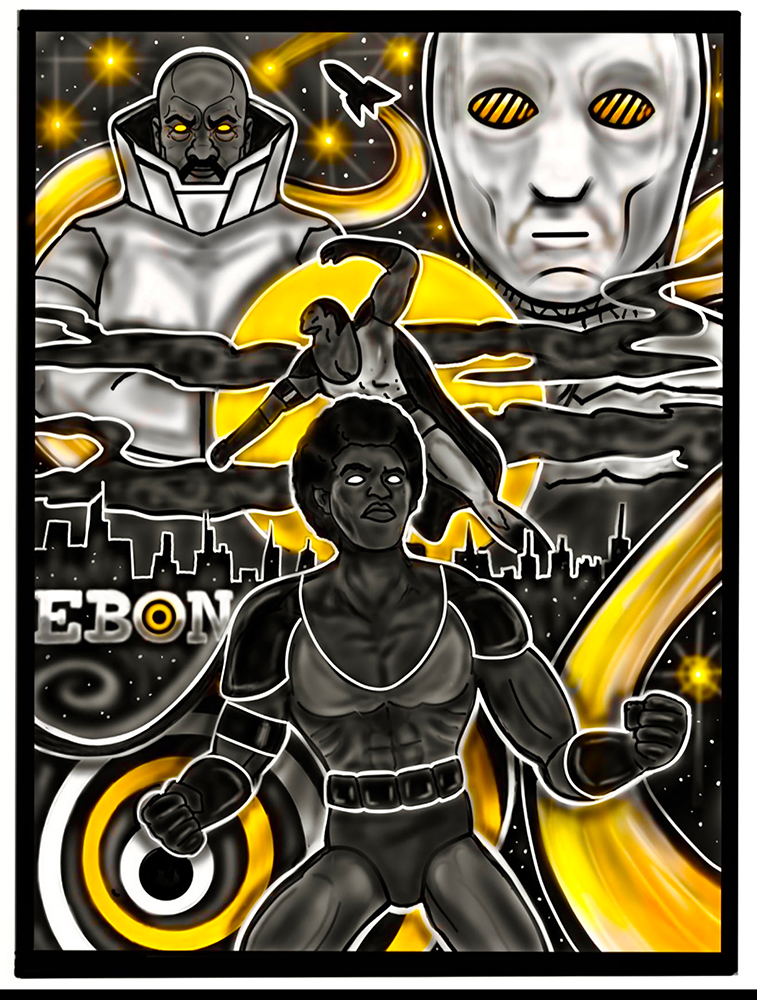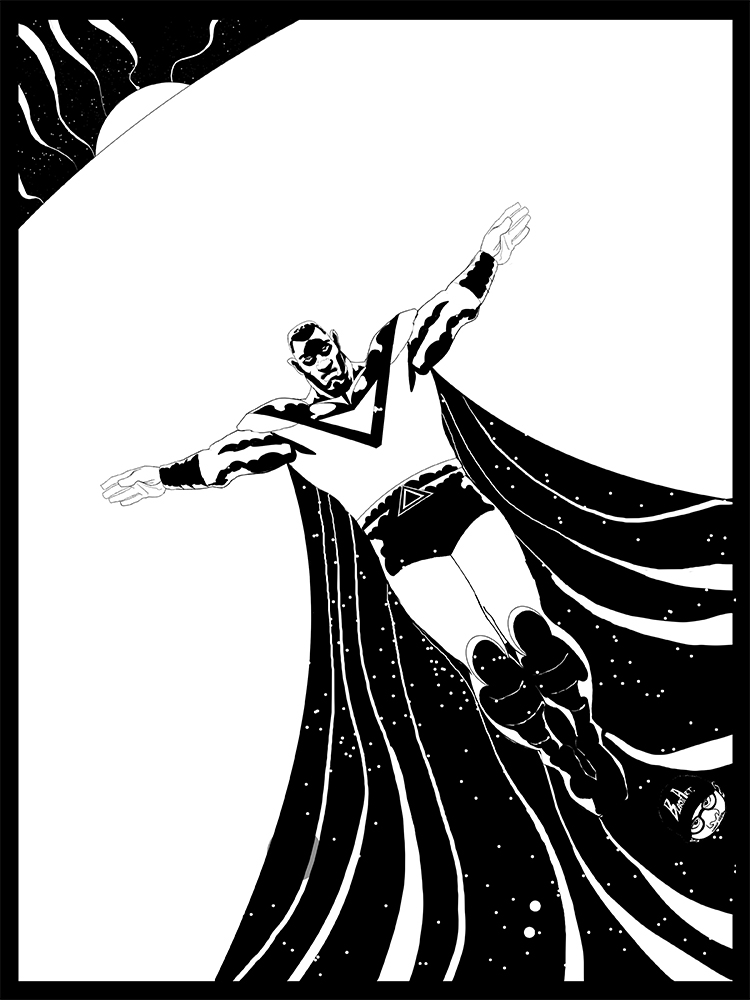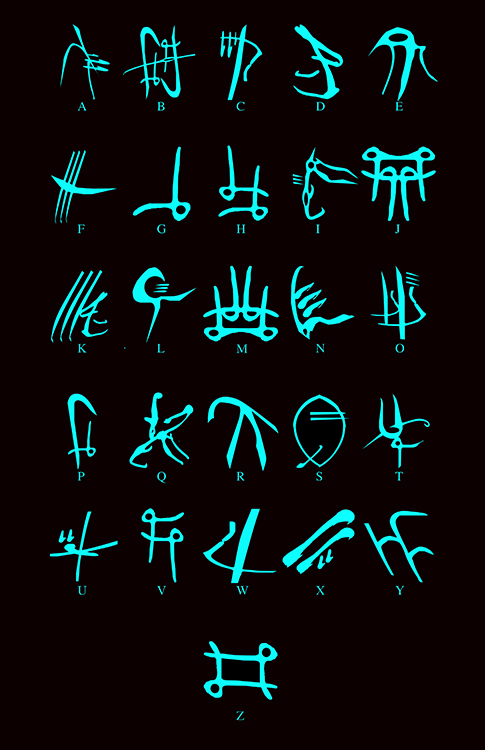 In the creation myth, the planet and solar system that Nyta belongs to was danced into existence by the goddess Sayeet. John Jennings of Black Kirby had designed a typeface called Jukia that was based off of African Diasporic body movements of Caribbean women. Black Kirby adopted this typeface as the official writing system of Nyta due to its connection to Black women's dance movements.
When Larry Fuller created the Ebon character, he also created a world of heroes and villains to accompany him. Because of the unfortunate occurrences that led to only one issue of Ebon being published, we never got a chance to see the lush, vibrant characters that Larry Fuller had envisioned for his character of Ebon/Valentine Jones to interact with. Black Kirby was honored to have built a relationship with Mr. Fuller over the last few years. This connection resulted in them getting a chance to see the original notes for this world and created a few renditions of what the characters may have been. This exhibition displays these ideas for the first time since their initial conception in the late 60s.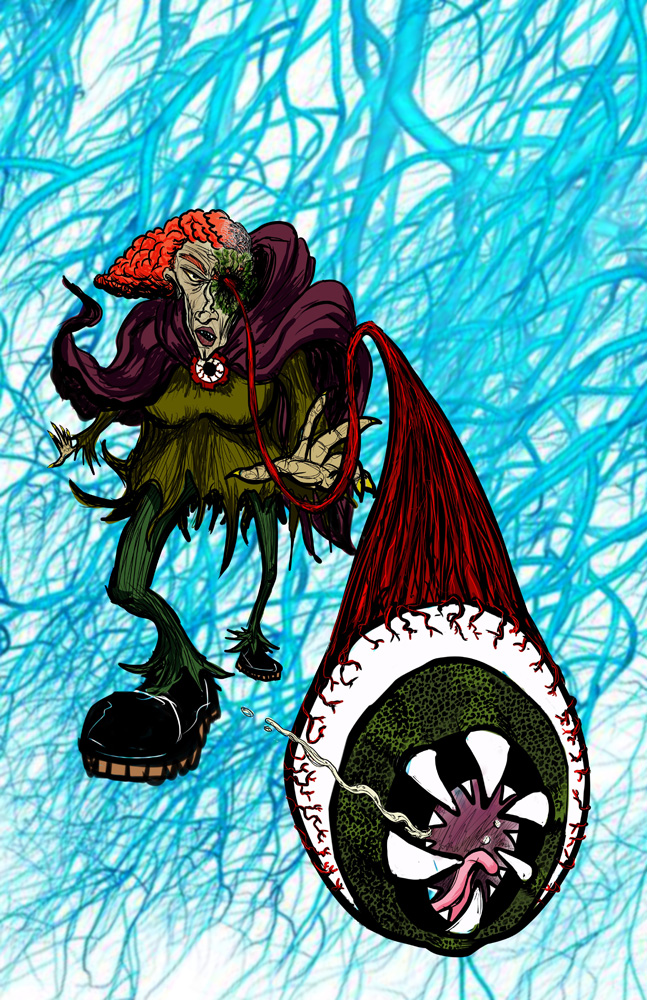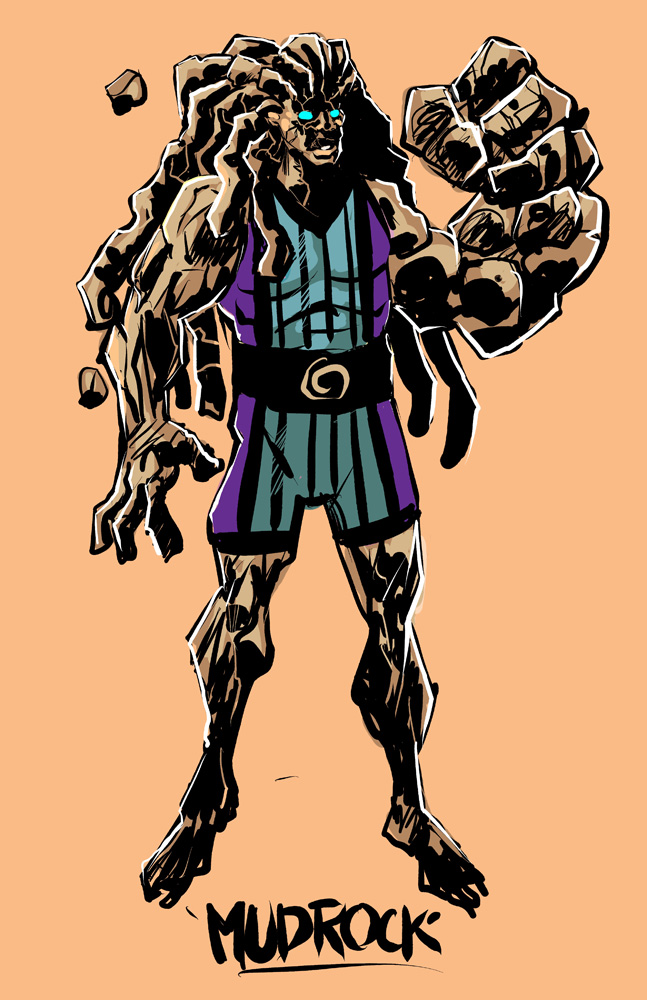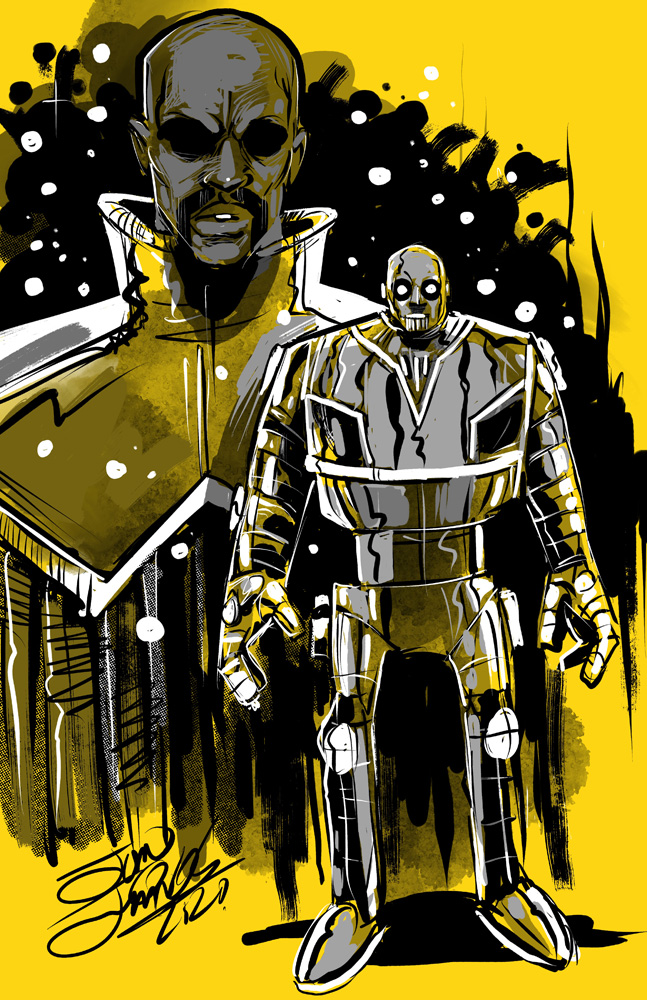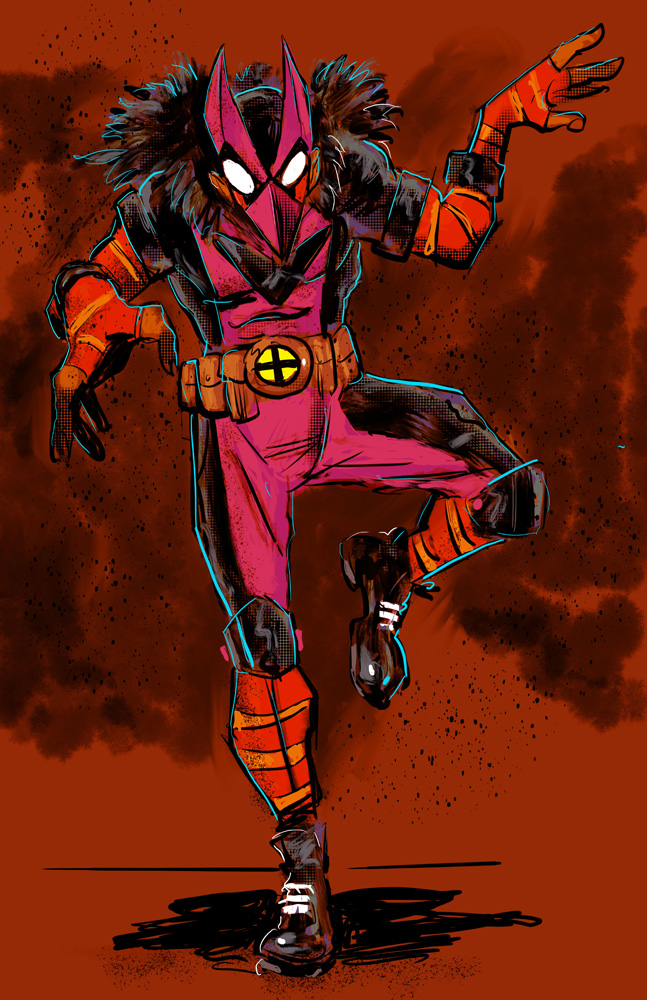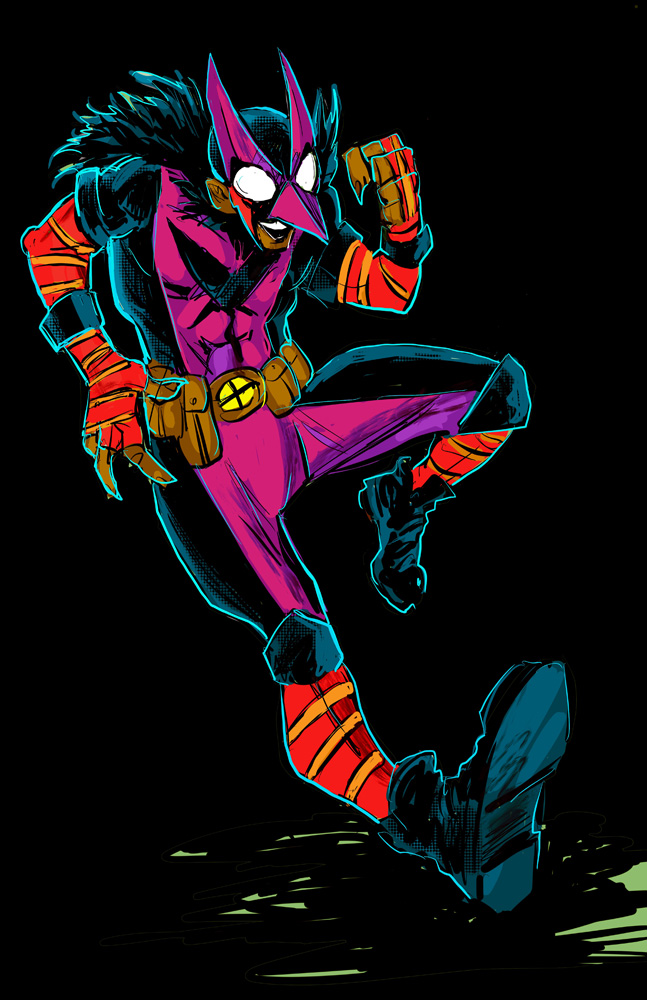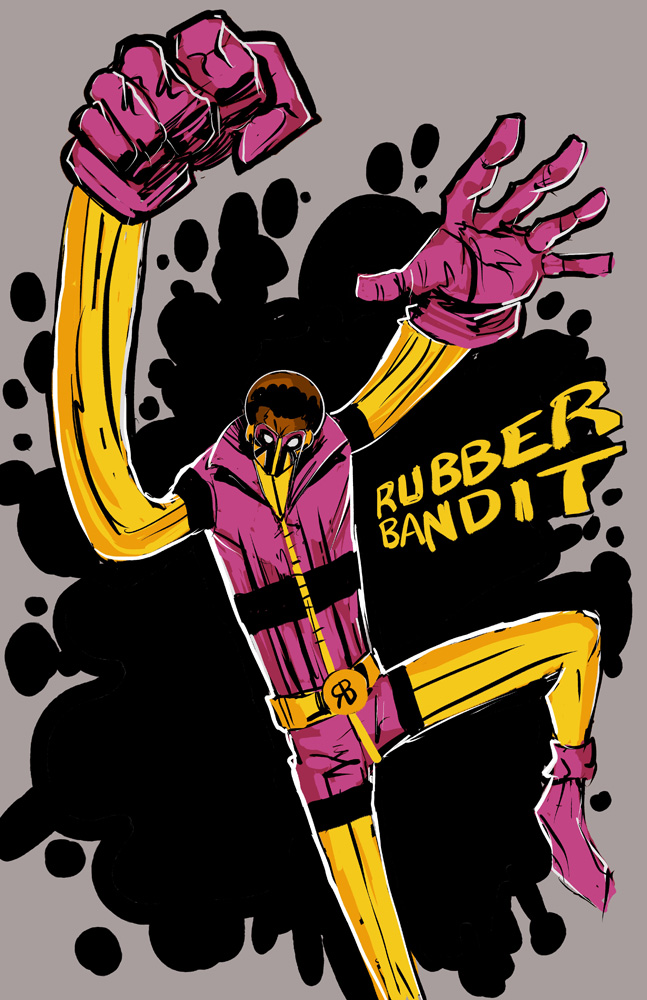 In the Ebon story by Larry Fuller, the idea of "oracles" are mentioned. Black Kirby started to imagine what those oracles represented and, as a result, what religion and spiritual belief systems may have manifested on Nyta. Black Kirby, along with Mr. Fuller, collaborated on a pantheon and creation myth that would be the backbone of Nytan society. The pantheon was created as a series of digital collages.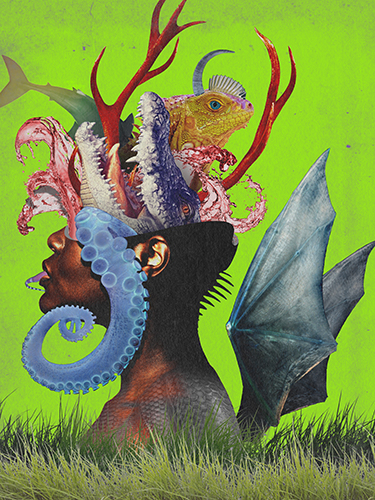 BEL
Goddess of Animals and Wildlife of the Planet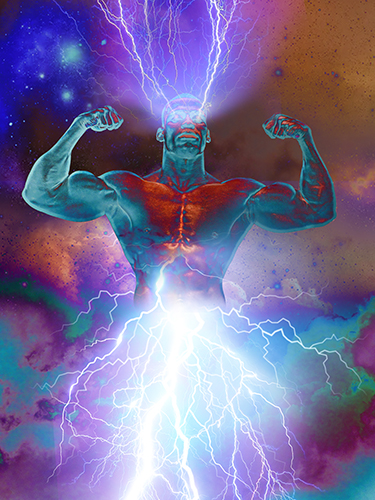 NYRA
Scientist-Warrior God / Protector of Life / The God of the Sky & Stars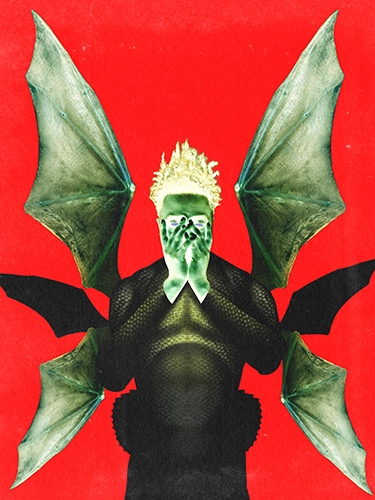 SELUUT
God of Deceit, Evil, and Trickery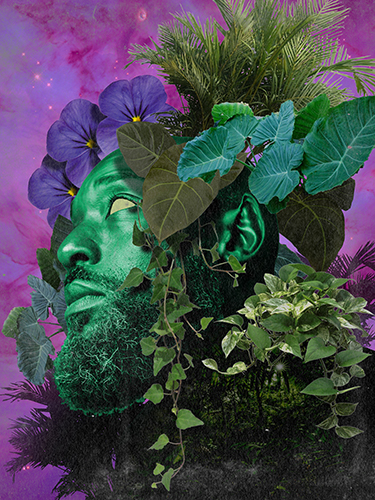 YAMUL
God of the Plants, Trees, Forests, and Soil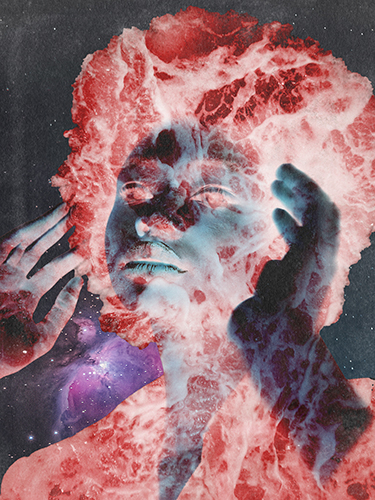 DYRA
Queen of the Glistening Blood Red Sea / Godess of Fertility and Life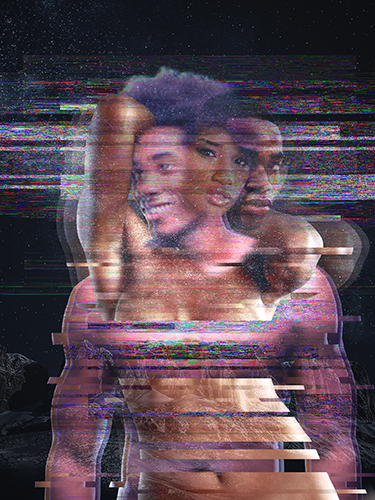 OKU
Trickster God of Wind, Language and the Theater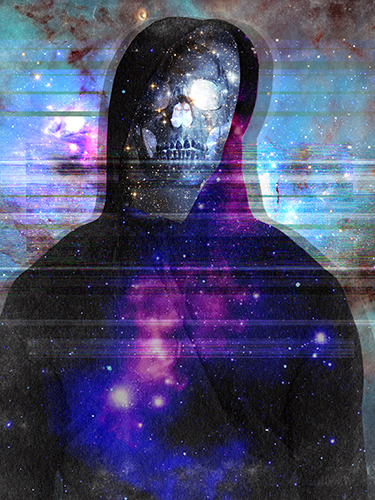 SHAAHZ
God of the Underworld and King of Sanuut; The Realm of Dead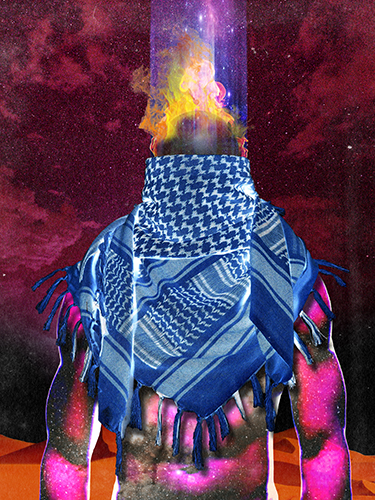 YUTT
Warrior God of Fire and the Heat of the Desert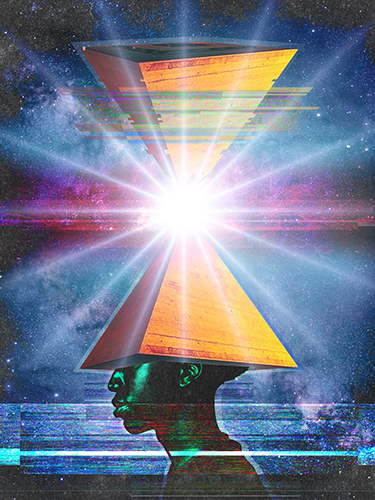 KAAL
God of the Rocks and Mountains and Lord of the Impossible Pyramids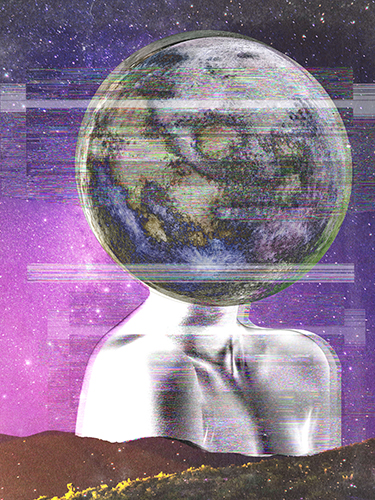 SAYEET
Goddess of the Moon, War and Technology / Co-Creator of the World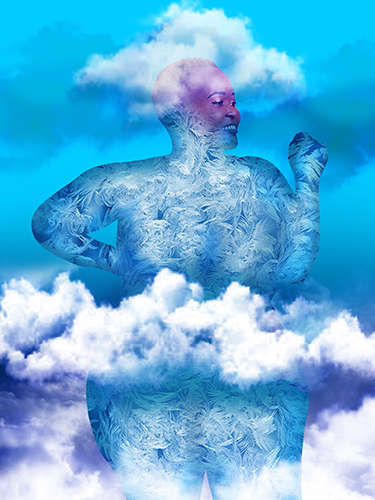 WUULA
Goddess of Winter and Mother of the Cold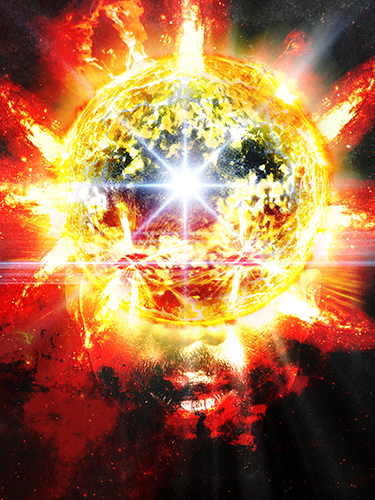 ZYR
High Father of God of the Red Suns / Co-Creator of the World
MCS 147: THE VISUAL CULTURE OF AFROFUTURISM
"These final projects are from a course taught at UC Riverside called MCS 147. The course title is The Visual Culture of Afrofuturism. It is an introduction to the themes, politics, and cultural aesthetics of Black speculative culture. One of the central ideas in the course that we discuss in MCS 147 is the idea of"liberation technologies". By broadly defining "technology" we give authors, artists, and scholars a lot more flexibility in defining black identity politics and how they get formulated in multiple ways via cultural production. We can look at writing as a liberation technology. Visual Art, Dance, Literature and Music as liberation technologies. If you are using that "tool" to freely express yourself and to openly resist oppression, it can be seen as a liberation technology. Dr. Beth Coleman defines technology in this quote: "In the fields of anthropology and philosophy, technology is often defined as an intrinsically human extension of the self". We've seen authors use fictitious technologies in their stories to critique the effects of racism and other forms oppression in our society. Examples go from the "Afro-Horn" created by Henry Dumas to the "Pig Detector" created by Amiri Baraka. We can also look at the technology used in Black No More by George Schuyler which turns black people into white people. These diegetic prototypes were created by these legendary writers to have discussions in their work through these allegorical machines.
Students of MCS 147 had to create a liberation technology in the form of an artifact that could be used in the traditions of black speculative cultural politics specifically for the freedom or advancement of people of color in our society. This can be a fictitious, fantastic, totally made up technology, artifact, or any other type of speculative contraption, machine, or dream like process or component. This technology can be described in a story, a report, or an essay. This fictitious technology or artifact should be useful to critique social injustices, create opportunities lost via racism, be able to empower people of color in some way, or level the playing field in some way that results in some semblance of equality. It should focus on using the radical imagination to create something that would help realize an Afrofuture. The students in MCS 147 come from all backgrounds related to their choice of study and this course is not an art class. However, I've found that having students create a manifestation of an idea via critical making, the concepts and theories discussed seem to find more resonance and nuance for the class and for the discussions." – John Jennings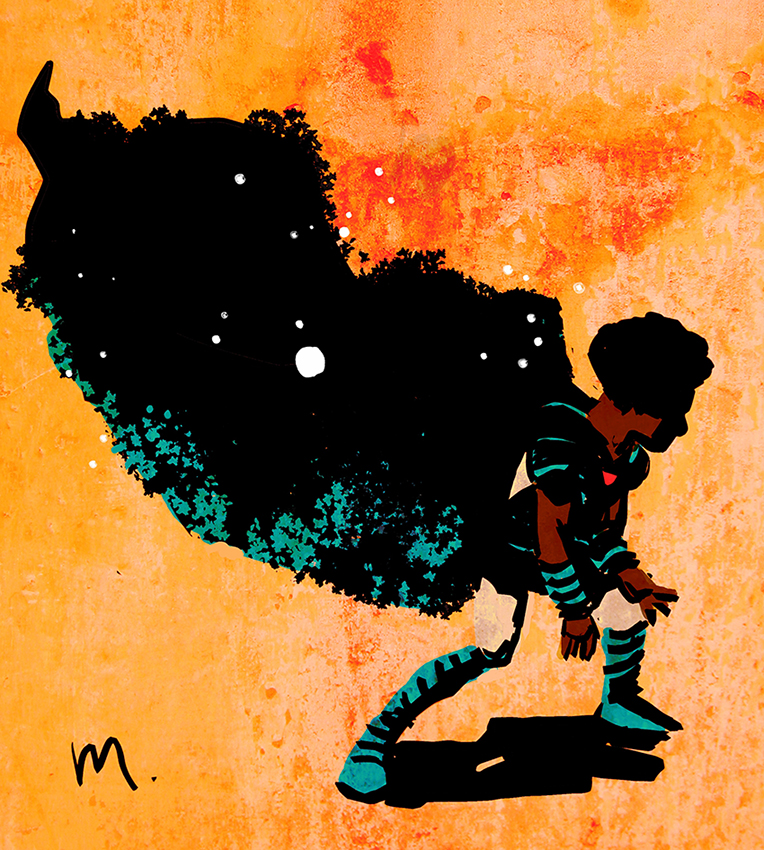 Ebon: Fear of a Black Planet is organized by Black Kirby and UCR ARTS. Black Kirby is a shared pseudonym that is Stacey Robinson (Assistant Professor of Graphic Design and Illustration, University of Illinois at Urbana–Champaign) and John Jennings (Professor of Media and Cultural Studies, UC Riverside). UCR's College of Humanities, Arts and Social Sciences and the City of Riverside provide support for UCR ARTS programs.
Thank you to our sponsors: UCR College of Humanities, Arts, and Social Sciences, and the City of Riverside. Additional support for this exhibition was provided by Jack Fitsimmons, Palm Springs.
A very special thank you to Larry Fuller. Special thank you to the following: J. Napoleon Winston, Otis Arterberry, Willie C. Cordy, Jr., Jarmel Williams, Jamal Williams, David Brame, Jeremy Marshall, Marco Finnegan, Damian Duffy, Bryan Christopher Moss, Diana Dotto, Omar Angulo, Aries, Mike Carson, Willie Cordy Jr., Diana Dotto, Desmon Farris, Enrique Fernandez, Derron Flood, Rob Fordham, Nick Hunter, Rico Jones, Hershel Lewis, Conor Patrick, Mitchell Purvis, Jonathan Taylor, Philip Thompson, Ricky Tomlin, Amir Wanzer, Paul White-Davis, Richard Wright.