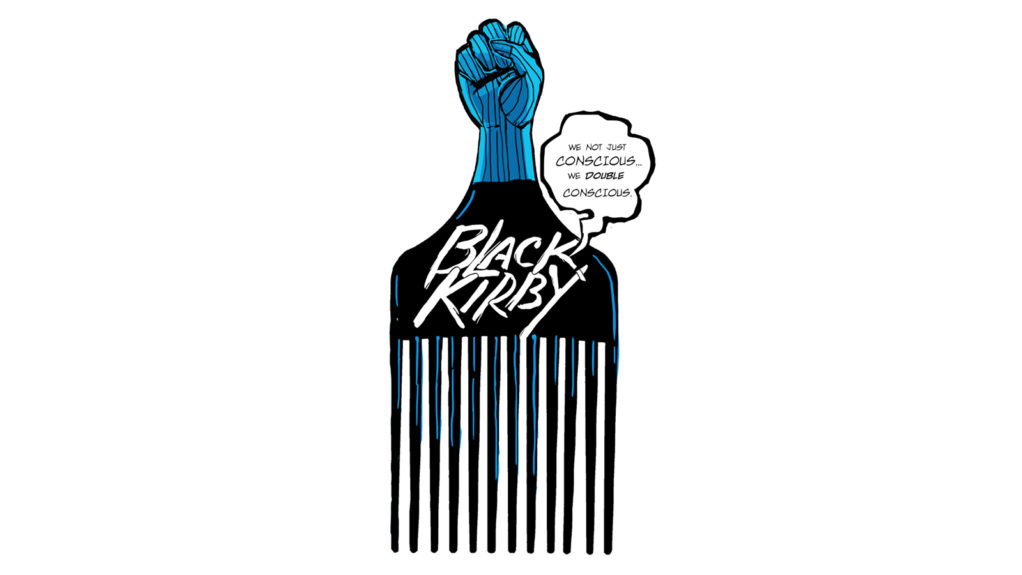 Ten Years of Remix and Revolution
Culver Center of the Arts
March 19, 2022 to June 19, 2022
BLACK KIRBY is a shared pseudonym that is Stacey Robinson (Assistant Professor of Graphic Design and Illustration, University of Illinois at Urbana–Champaign) and John Jennings (Professor of Media and Cultural Studies, UC Riverside). Black Kirby functions as a rhetorical tool by sampling and remixing comic legend Jack Kirby's bold forms and energetic ideas combined with themes centered around Afrofuturism, social justice, representation, magical realism, and using the culture of Hip Hop as a methodology for creating visual communication. It also utilizes the notion of an alter-ego as a symbolic allegory for DuBoisian "double-consciousness" theory. This collection of work samples from Kirby's style but also remixes it with the formal and conceptual influences from many other artists, pop culture, and artistic expressions. In a sense, Black Kirby uses the comics medium as a conceptual crossroads to examine identity as a socialized concept through bricolage, pastiche, oppositional juxtapositions, and deconstruction. It is the artists' hope to destabilize various ideas of "blackness" in order to promote a broader spectrum of black subjectivity.
This exhibition is an overview of some of the most iconic pieces from this interdisciplinary duo, featuring a selection of early collaborative works, artist projects previously presented at the Culver Center, and numerous other commissioned experimental works. John Jennings and Stacey Robinson have shown as Black Kirby in multiple venues including The Schomburg Center for Research in Black Culture, Harvard University, Boston University, Jackson State University, The University of Illinois at Urbana-Champaign, OCAD in Toronto, The U.S. Embassy in Barbados, Northeastern University, Hallwalls Contemporary Art Center, Humboldt University in Berlin, Michigan State University, Culver Center of the Arts, and the Zora Neale Hurston Museum in Florida. Black Kirby has collaborated on award-winning graphic novels, designed and art directed numerous publications, and was nominated for a Bessie Award for their art direction on Cynthia Oliver's performance piece Virago Man Dem.
Black Kirby X is guest curated by Dave "D.W." Griffith of Pop's Barber Shop (Harlem, New York) and organized by Black Kirby and UCR ARTS. UCR's College of Humanities, Arts and Social Sciences and the City of Riverside provide support for UCR ARTS programs. This exhibition is co-sponsored by the Piranha Jones Memorial Foundation.  
Thank you to our sponsors: UCR College of Humanities, Arts, and Social Sciences, and the City of Riverside. Additional support for this exhibition was provided by Jack Fitsimmons, Palm Springs.
Image courtesy of Black Kirby.