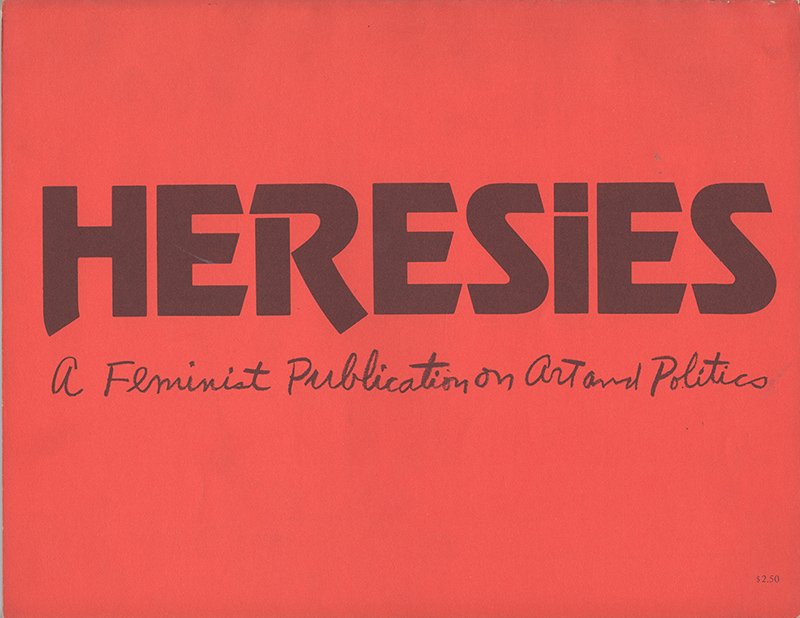 Heresies: Still Ain't Satisfied
Culver Center of the Arts
July 22, 2023 to January 28, 2024
"New truths begin as heresies." This truism provided the title for Heresies: A Feminist Publication on Art and Politics, one of the most influential feminist journals of the last fifty years. Published between 1977 and 1993 in New York City, Heresies presented texts and projects by some of the most notable activists, artists, scholars, teachers, and writers of the era. Emerging from the ferment of international, national, and local movements for social justice—including civil rights, women's equality, gay liberation, decolonization, peace—the journal's ethos was grounded in a joyfully contentious pluralist feminism. Each issue was crafted by a new editorial collective of volunteers who organized it around a particular theme related to art, theory, and politics. This collective ethos meant that over the course of its run, hundreds of individuals participated in the production of the magazine, enacting a collaborative feminist practice of meaning-making. As stated in the inaugural issue, "We are not only analyzing our own oppression in order to put an end to it, but also exploring concrete ways of transforming society into one that is socially just and culturally free."
Heresies: Still Ain't Satisfied introduces the journal to a new audience. The exhibition highlights select editorial content to convey the breadth of the journal's visual and intellectual explorations, its collaborative mode of production, and its radically reflexive process of evaluation—in short, the dynamism of engaged feminist world-making. Critically, this exhibition will serve as a platform for a series of discursive events and conversations that will expand on the journal's lessons, including its feminist and do-it-yourself mode of working, and generative collaborations with multiple stakeholders. Programming organized in collaboration with those who work at, study within, and live alongside UCR will engage with some of the most acute issues of our time, and consider how feminist-informed art and politics can most productively shape new truths.
Digitized copies of all journal issues are available at heresiesarchive.org.

Related Events
Fall Reception
Saturday, October 7, 2023 | 6-8pm
Free and open to the public
Free events held in the Heresies exhibition space at UCR ARTS:
October 26, 2pm – Feminist Zine Workshop with Angela Asbell
November 3, 6pm – Tour led by Ashley McNelis
November 16, 5:00pm – Latipa, Artist and UCR Assoc. Prof., Media & Cultural Studies, on Theresa Hak Kyung Cha
November 17, 6pm – Tour led by Ashley McNelis
November 30, 5:30pm – Setsu Shigematsu, UCR Asst. Prof., Media & Cultural Studies, on Feminism in Japan
Please check back for additional information soon!
Heresies: Still Ain't Satisfied is curated by Judith Rodenbeck, Professor and Chair, Department of Media and Cultural Studies at UCR, and Ashley McNelis, CMP Curatorial Fellow. The organizers extend their gratitude to the Heresies Collective. Programs at UCR ARTS are supported by the College of Humanities, Arts, and Social Sciences at UCR, and the City of Riverside.
Image: Cover, Heresies #1: Feminism, Art and Politics, 1977.

For inquiries about permissions, please contact UCR ARTS at ucrarts@ucr.edu.