Mivos Quartet
Outpost Concert Series 2022-23
October 10, 2022 7:00pm
Performance
Free Admission!
UCR ARTS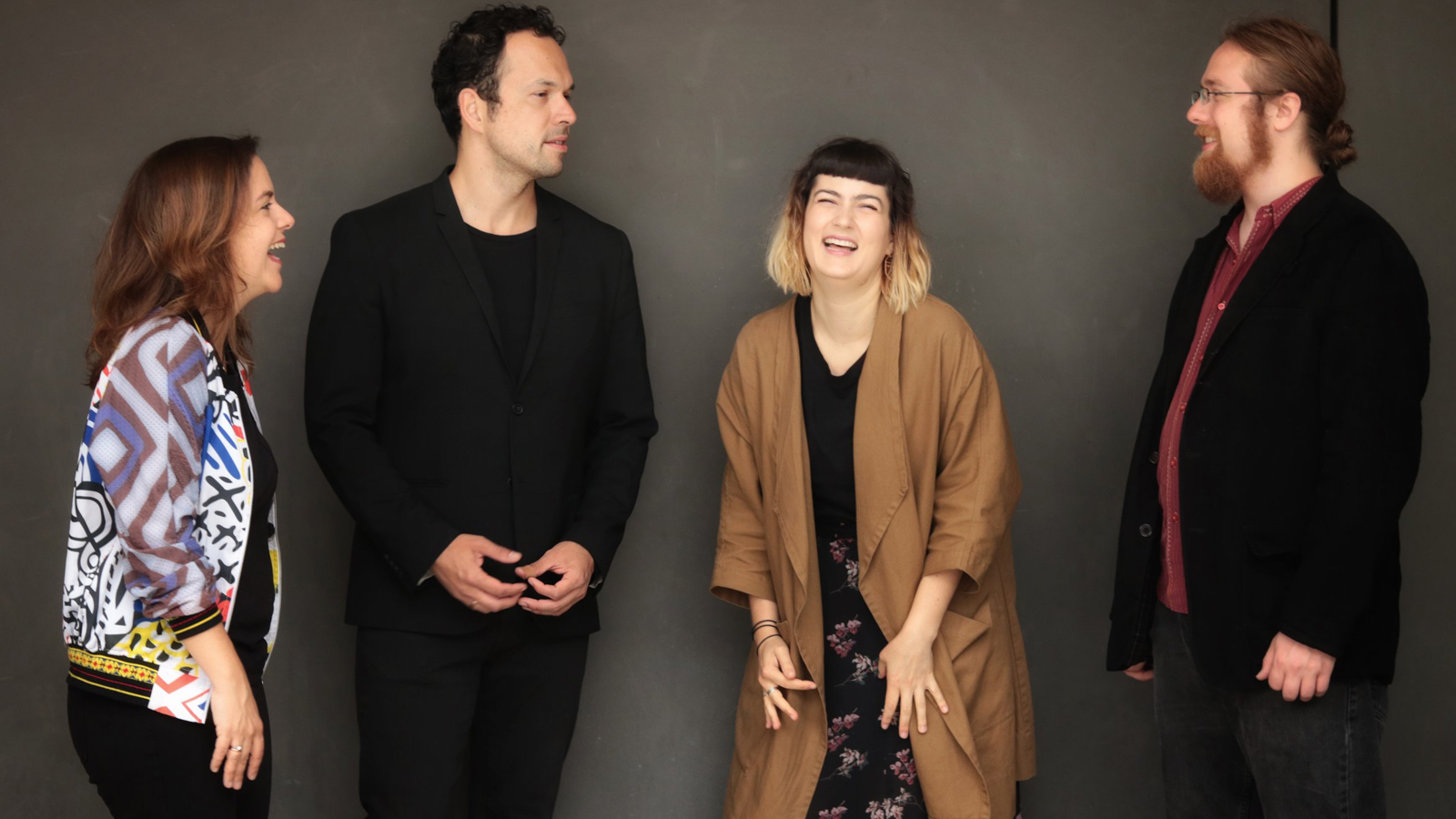 The Mivos Quartet, "one of America's most daring and ferocious new-music ensembles" (The Chicago Reader), is devoted to performing works of contemporary composers and presenting diverse new music to international audiences. Since the quartet's beginning in 2008 they have performed and closely collaborated with an ever-expanding group of international composers representing a wide aesthetic range of contemporary composition. Highlights during the 2022/23 season will include performances and residencies at Walker Arts Center with Cécile McLorin Salvant and Ambrose Akinmusire, UPenn, ECLAT Festival (DE), Columbia University, Peak Performances with Mary Halvorson, and the announcement of a new album of Steve Reich string quartets.
Mivos is invested in commissioning, premiering, and growing the repertoire of new music for string quartet, striving for rich collaborations with composers over extended periods of time. Recently, Mivos has collaborated on new works with Jeffrey Mumford (LA Philharmonic/Library of Congress), Michaela Catranis (Fondation Royaumont), Chikako Morishita (rainy days festival), George Lewis (ECLAT Festival Commission), Sam Pluta (Lucerne Festival Commission), Eric Wubbels (CMA Commission), Kate Soper, Scott Wollschleger, Patrick Higgins (Zs), and poet/musician Saul Williams. For this work and the continuation of it, the quartet was the recipient of the 2019 Dwight and Ursula Mamlok Prize for Interpreters of Contemporary Music.
Beyond expanding the string quartet repertoire, Mivos is committed to working with guest artists exploring multi-media projects and performing improvised music. Mivos has worked closely with artists such as Cécile McLorin Salvant (Ogresse), Ambrose Akinmusire (Origami Harvest), Ned Rothenberg, Timucin Sahin, Nate Wooley, and most recently guitarist, composer, and 2019 MacArthur Fellow, Mary Halvorson.
Mivos has performed to critical acclaim on prestigious series such as Noon to Midnight (USA), Lucerne Festival (CH), Jazz at Lincoln Center (USA), the New York Phil Biennial (USA), Wien Modern (AT), the Darmstadt Internationalen Ferienkurse für Neue Musik (DE), rainy days festival (LU), Asphalt Festival (DE), HellHOT! New Music Festival (Hong Kong), Shanghai New Music Week (CN), Música de Agora na Bahia (Brazil), Aldeburgh Music (UK), and Lo Spririto della musica di Venezia (IT). In addition to their performance season, Mivos is committed to the education of young composers and string players, and is regularly the quartet in residence at the Creative Musicians Retreat at the Walden School (USA) and the Valencia International Performance Academy and Festival (ES). The quartet has conducted workshops at Columbia University, Harvard University, Boston University, UC Berkeley, US San Diego, Duke University, Royal Northern College of Music (UK), Shanghai Conservatory (China), University Malaya (Malaysia), Yong Siew Toh Conservatory (Singapore), the Hong Kong Art Center, and MIAM University in Istanbul (Turkey) among others. Along with their work at educational institutions, Mivos grants the Mivos/Kanter String Quartet Composition Prize, a yearly award to support the work of emerging and mid-career composers residing in the USA, and the I-Creation prize, a competition for composers of Chinese descent worldwide. The members of Mivos are violinists Olivia De Prato and Maya Bennardo, violist Victor Lowrie Tafoya, and cellist Tyler J. Borden. Mivos operates as a non-profit organization dedicated to performing, commissioning, and collaborating on music being written today.
OUTPOST CONCERT SERIES 2022-23
adventurous music for curious ears
outpost.ucr.edu
The University of California, Riverside Department of Music and Culver Center of the Arts present the Outpost Concert Series, dedicated to exhibiting new and innovative music to the Riverside community. Consisting of five events per season, Outpost presents virtuosic and dynamic performances of music that fearlessly explore groundbreaking territory. Our featured artists come from across the country and connect Riverside's musical culture with a larger, national scene.