Creative Activism: Artists Driving Social Justice Conversations
Panel + Tour of Civil Rights Institute of Inland Southern California
October 5, 2023 5:30pm
Free and open to the public
Presented by UCR ARTS and Civil Rights Institute of Inland Southern California
Civil Rights Institute of Inland Southern California
Bank of America Diversity Center
3933 Mission Inn Avenue, Suite 102
Riverside, CA 92501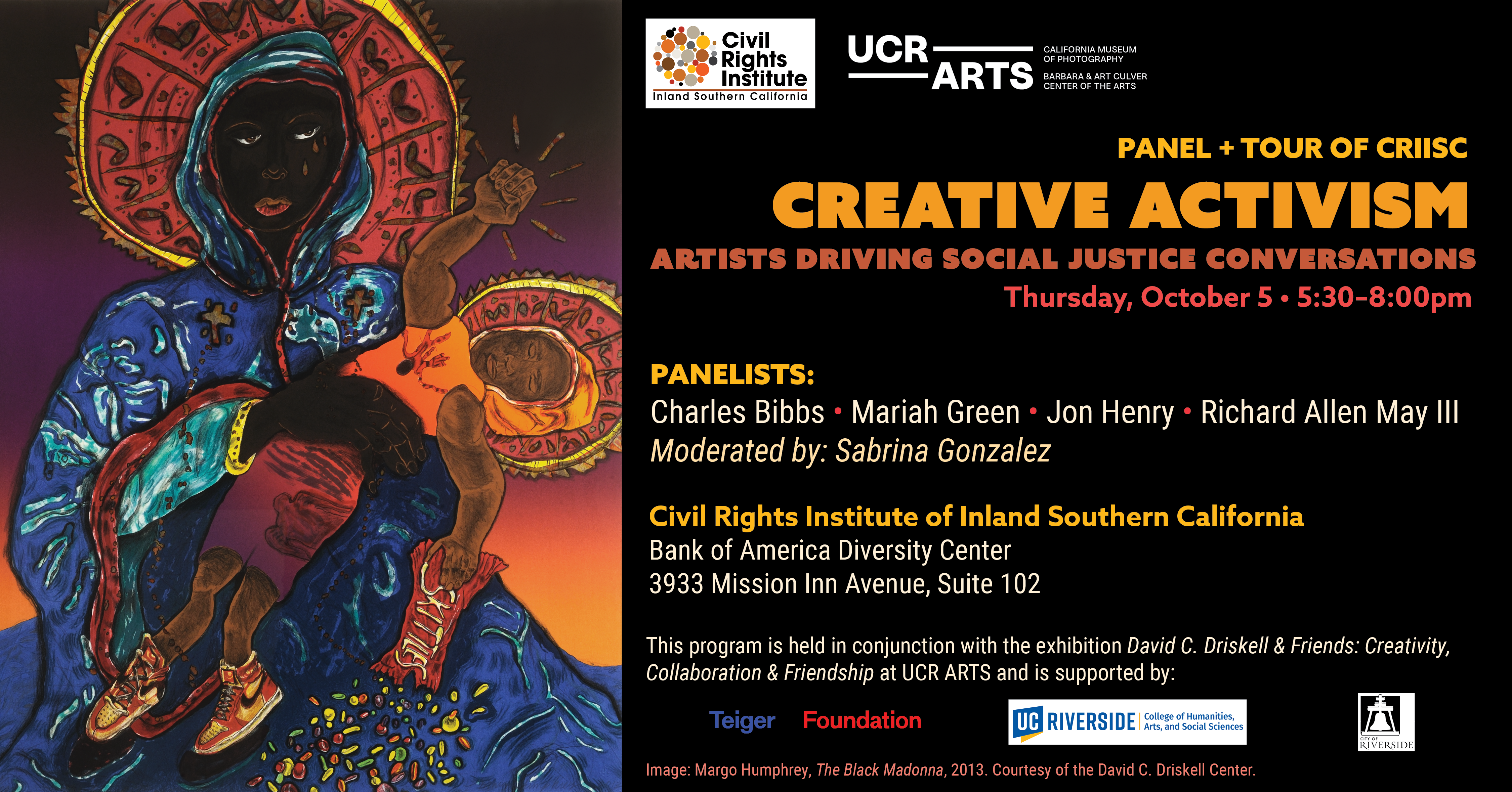 This event brings emerging, established, local, and nationally-renowned artists together to discuss how art and artists drive social justice conversations in our Inland Southern California community and beyond. CRIISC's exhibition, Still I Rise: The Black IE Fight for Justice, will be open to tour after the discussion.
Panelists:
Charles Bibbs
Mariah Green
Jon Henry
Richard Allen May III
Moderated by Sabrina Gonzalez
About the panelists:
Charles Bibbs
Charles Bibbs is an internationally acclaimed artist, entrepreneur, and philanthropist who is recognized for his beautiful artistic renderings that convey deep senses of spirituality, majesty, dignity, strength, and grace.  He attended Los Angeles Harbor College, Long Beach City College, Cal State Dominquez Hills, and the California State University of Long Beach, where he studied in studio arts and fine art printing.
Bibbs' work displays a unique, robust and stylized quality done in a combination of abstract and realistic interpretations of contemporary subjects that are fused into beautiful multifaceted ethnicity, larger-than-life images. His technique and style can be distinguished from most artists by the way in which he combines layers of acrylic paints and inks to obtain rich undertones of line textures.
Bibbs is the founder of  Art2000 Visual Artist Association, Art On Tour, Images Magazine, The Inland Empire Music, and Arts Foundation, two publishing and distribution companies, the former B Graphics and Fine Arts and his current company, Studio B Art.
In his 47 years as an artist, Bibbs has received over 100 recognition and awards for his art and philanthropic spirit, including the "Key to the City" awards in 7 major cities across the United States. His work has been featured in major films, such as the "The Secret Life of Bees (he created the "Black Madonna" image for this movie)," television, books and CD covers including six cover designs for the Urban Knight Collection that features legendary musicians Ramsey Lewis and Grover Washington.
His works have been displayed in fine art galleries, solo and group exhibitions throughout the country and abroad, including Tokyo, Japan, and on the walls of many private collectors and organizations.
"My most important goal is to make profound aesthetic statements that are ethnically rooted, and at the same time arouse spiritual emotions within us."  Charles A. Bibbs®
www.cbibbs.com
Mariah Green
Local Inland Empire community member Mariah Green is an artist, curator, and an archivist. They primarily paint with oil paint and watercolor to explore different routes into the storytelling found in Afrofuturism. Mariah's focus is on vehicles that could be used in the transportation into new black spaces. Applying Sun Ra's speculation of what is on the other side of time and how music can be used as a vehicle to this destination is how Mariah approaches their creative process thinking what other vehicles could be used as transportation into blackness. They are using blackness as an imaginative space where black people from past, present, and future roam and use this space to exist without consequence. As a curator and archivist she aims to document and platform local artists living within the deep cuts of our valleys. She has curated two local exhibitions. The first titled THE DEEP CUT at ALL Eyes Gallery in San Bernardino that exhibited 15 Inland Empire photographers this past year and BLUEPRINTS at Riverside's local PAINSUGAR Gallery on 9th street showcasing all black artists ranging from Ohio, Los Angeles, to our community member Maurice Howard. In addition they have begun an online archive titled IE ARCHIVES that dedicates itself to intentionally tell the historic and present stories in the Inland Empire through the work of its artists. With any spare time Mariah is also a columnist for an online arts publication called Variable West writing about Southern California's IE artists.
@mariahgreenarts
Jon Henry
Jon Henry is a visual artist working with photography and text, from Queens NY (resides in Brooklyn). His work reflects on family, sociopolitical issues, grief, trauma and healing within the African American community. His work has been published both nationally and internationally and exhibited in numerous galleries including Aperture Foundation, Smack Mellon, and BRIC among others. Known foremost for the cultural activism in his work, his projects include studies of athletes from different sports and their representations.
He was recently named one of The 30 New and Emerging Photographers for 2022,  TIME Magazine NEXT100 for 2021.  Included in the Inaugural 2021 Silver List.  He recently was awarded the Arnold Newman Grant for New Directions in Photographic Portraiture in 2020, an En Foco Fellow, one of LensCulture's Emerging Artists and has also won the Film Photo Prize for Continuing Film Project sponsored by Kodak.
www.jonhenryphotography.com
@whoisdamaster
Richard Allen May III
Richard Allen May III is an educator, artist, writer, and scholar based in Southern California's Inland Empire. His exhibition reviews are regularly published in the Los Angeles-based arts magazine, Artillery. He teaches Writing courses at ArtCenter College of Design in Pasadena and Art Writing courses at California State University, San Bernardino and California State University, Fullerton. May served as an editor and wrote the foreword to the book, AFRICOBRA: Experimental Art Toward a School of Thought (2020, Duke University Press) authored by founding member Wadsworth A. Jarrell. He also teaches Art History for Bowie State University, an HBCU (historically Black colleges and universities) in Maryland. Art and poetry by May were recently published in the anthology, These Black Bodies Are… (2023, Inlandia Institute, ed. Romaine Washington).
richardmayart.com
Richard's Artillery Magazine Byline
Richard Allen May III is teaching a selection of art workshops inspired by his work and the exhibition David C. Driskell and Friends: Creativity, Collaboration, and Friendship at UCR ARTS. Find upcoming workshops on our events calendar.
This program is held in conjunction with the exhibition David C. Driskell & Friends and is supported by the Teiger Foundation, the College of Humanities, Arts, and Social Sciences at UC Riverside, and the City of Riverside.