arx duo
Outpost Concert Series 2021-22
May 11, 2022 7:00pm
Performance
Free Admission!
UCR ARTS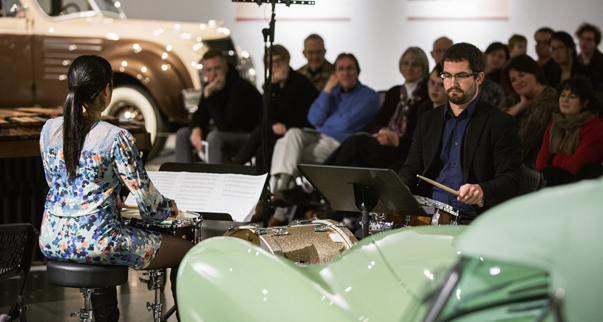 arx duo is dedicated to the expansion of the percussion chamber music repertoire through the creation and presentation of new works, the educating and inspiring of young artists, and   exciting performances inviting audiences to engage with new works and artists from all over the world. They have had premiere performances throughout the globe, conducted workshops on three continents, and worked with a variety of composers and artists to bring new creations to life for communities everywhere.
Just before the COVID-19 pandemic, the duo had given their Royal Albert Hall Debut in London with British Composer of the Year (2018) Dominic Murcott's "Harmonic Canon". They were also scheduled to have their Carnegie Hall Debut in April of 2020. Through the Pandemic, the group has continued to commission and workshop new pieces with composers, and engage with students and audiences across the globe. Honing their recording skills, they have released numerous videos and full online concerts, and are preparing to release their first album in the spring of 2022, through a residency with Jack Straw Artists in Seattle.
With a repertoire ranging from established masters to today's newest compositional voices, arx duo has worked closely with composers such as Jonathan Bailey Holland, Ted Hearne, Steven Mackey, Juri Seo, and many more. They have worked with a performed with renowned chamber ensembles such as the Dover String Quartet, Aeolus String Quartet, Bergamot String Quartet, Amy Yang, Henry Kramer, The Percussion Collective – Robert van Sice, among many others.
As educators, arx duo has held guest positions at Peabody Conservatory, Michigan State University, and are currently faculty at Curtis Institute of Music Young Artist Summer Program. They've also given masterclasses to young musicians on three continents, including many locations in the states. Mari and Garrett have also given residencies (both in person and virtual) for the composition departments of Princeton, Boston Conservatory, and more in the coming seasons.
The name "arx duo" comes from the artists' desire to forge new connections and artistic pathways or "arcs" within the genre, expanding the opportunities for their music to reach new audiences.
The Outpost Concert Series presents virtuosic and dynamic performances of music that fearlessly explores groundbreaking territory. Our featured artists come from across the country and connect Riverside's musical culture with a larger, national scene.