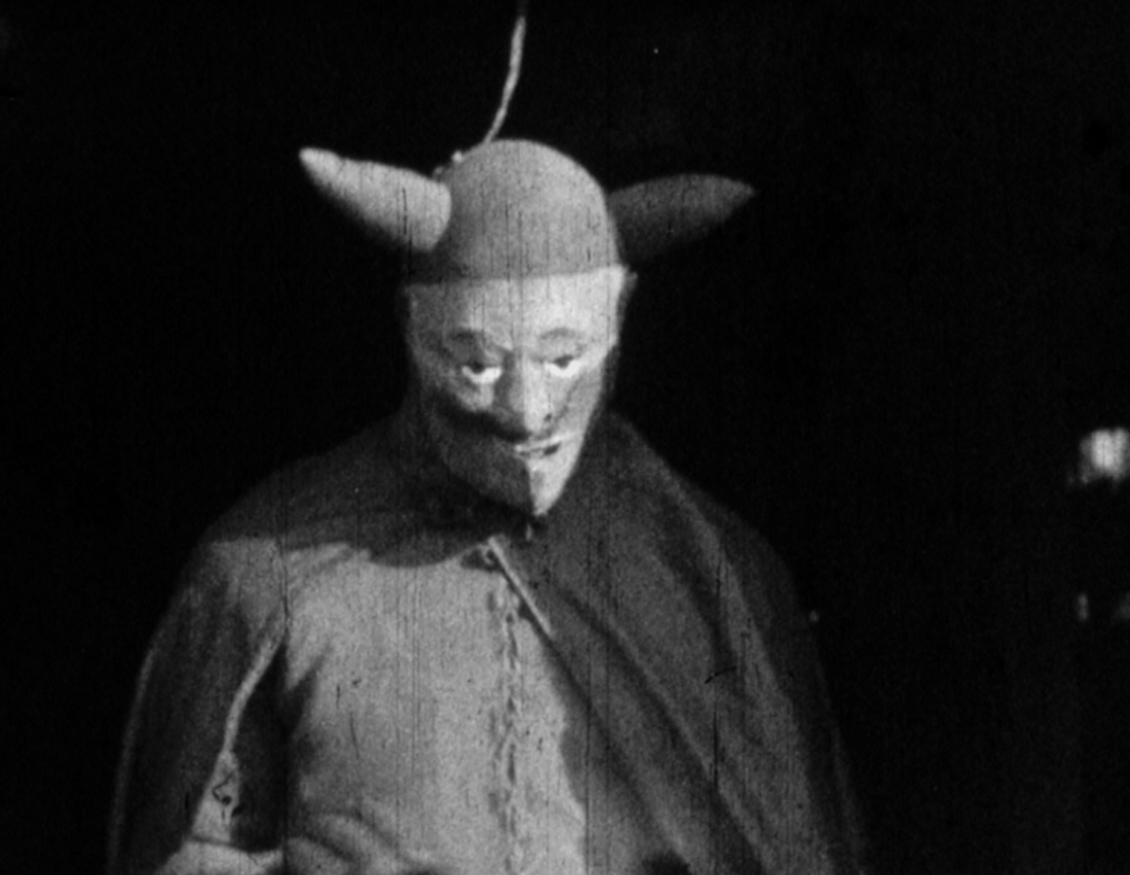 Directed by James Gist, Eloyce Gist
October 13th, 2023 7:00 pm
Free Admission! With an introduction by and conversation with Dr. Elyse Ambrose (UCR, Dept. of Religion).
"HELL-BOUND TRAIN is the work of self-taught filmmakers James and Eloyce Gist, African-American evangelists who employed cinema as a tool for their traveling ministry. Their surreal visual allegories were screened in churches and meeting halls, accompanied by a sermon and the passing of a collection plate. Rather than having a linear story, the film is instead a catalog of iniquity, a car-by-car dramatization of the sins of the Jazz Age (including gambling, dancing, alcohol, and the mistreatment of animals), presided over by a horned devil, culminating in a colossal derailment (a model train tossed into a bonfire).
Admittedly, the production values are minimal—being shot with hand-held 16mm equipment with natural light, and without audio—but the surreality of it all makes for a compelling viewing experience, and shows that renegade, visionary filmmakers can be found in the most unexpected places. HELL-BOUND TRAIN features a newly-created score by Dr. Samuel Waymon, best known to cineastes as having provided the moody score (and portrayed the minister/chauffeur) in Bill Gunn's influential 1973 film Ganja and Hess. Waymon, an ordained minister, continues to write and perform R&B music, and recently served as consultant on the documentary The Amazing Nina Simone (the subject of which is his late sister, née Eunice Waymon). It is believed that HELL-BOUND TRAIN was filmed prior to James's marriage to Eloyce, so it is unclear how much involvement she had in the making of the film. But she may have had a hand in the editing and was certainly engaged in all aspects of their subsequent work." – Kino Lorber
This film is part of the series SPOOKS: A Black Horror Film Series brought to you by Scary Black Folks, organized by Dr. Courtney R. Baker (UCR, English) and John Jennings (UCR, Media and Cultural Studies). This screening is sponsored by UCR's College of Humanities, Arts, and Social Science (CHASS) Dean's Office and the Center for Ideas and Society.
Director: James Gist, Eloyce Gist
Studio: Kino Lorber
Running Time: 50 minutes
Country: USA
Release Year: 1930
Rated: Unrated