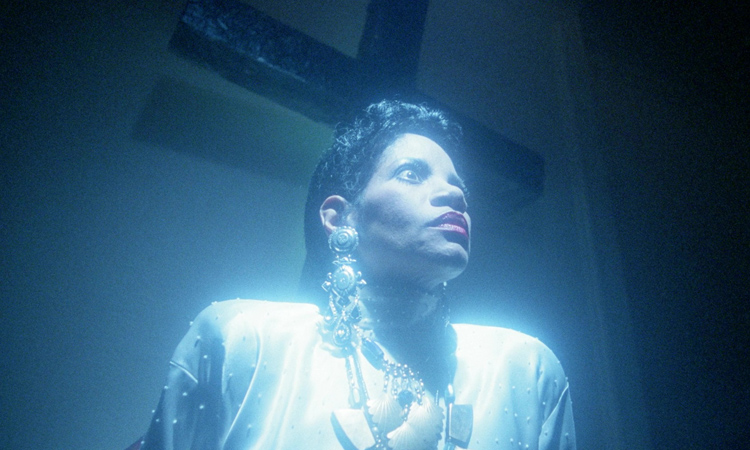 Directed by James Bond III
October 20th, 2023 7:00 pm
Free Admission! With an introduction by and conversation with Director James Bond III & John Jennings!
"Joel grew up in the church but has recently started questioning his beliefs. After sensing a supernatural presence from his deceased father, Joel becomes compelled to visit his cousin in New York. But shortly after arriving, they become embroiled in a series of mysterious homicides of local men, all of whom were last seen in the company of a mysterious and beautiful woman. Beautifully photographed by Ernest Dickerson (DO THE RIGHT THING) and starring Kadeem Hardison (I'M GONNA GIT YOU SUCKA) and Samuel L. Jackson (PULP FICTION), this sole directorial effort from child actor James Bond III is a macabre, neon-tinged portrait of late 1980s Brooklyn. The movie blends supernatural horror and religious mysticism, punctuated by an electrifying hip hop and R&B soundtrack. Newly restored from the original 35mm camera negative!" – American Genre Film Archive
This film is part of the series SPOOKS: A Black Horror Film Series brought to you by Scary Black Folks, organized by Dr. Courtney R. Baker (UCR, English) and John Jennings (UCR, Media and Cultural Studies). This screening is sponsored by UCR's College of Humanities, Arts, and Social Science (CHASS) Dean's Office and the Center for Ideas and Society.
Director: James Bond III
Studio: Troma Entertainment
Running Time: 95 minutes
Country: USA
Release Year: 1990
Rated: R
"Contributes to a Black filmmaking tradition that does not wish to replicate the sensibilities or aesthetic leanings . . . of Hollywood."
— Robin R. Means Coleman, author of HORROR NOIRE