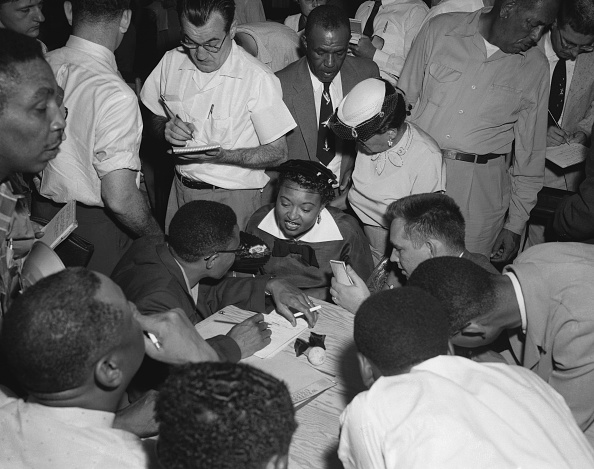 Mamie Till's Courage from Tragedy
Culver Center of the Arts
November 4, 2023 to March 30, 2024
The lynching of fourteen-year-old Emmett Till by white supremacists in 1955 was a shocking tragedy, made worse by the appalling miscarriage of justice in the trial that followed. Emmett's mother, Mamie, courageously made the decision to forego the privacy of her devastating loss by insisting the world see what they had done to her son. She chose to have an open casket funeral and invited the Black press corps in order to provide visual evidence of this tragedy to the world.
The collective awakening and the actions that followed contributed directly to the Civil Rights Movement. Driven by courage, the event inspired a generation to force change, and the images that record this tragedy sparked consciousness across society. The impact of these images shook the world and there was no turning back.
This photography exhibition begins with family photos of Mamie and Emmett, but at the core are extraordinary images made by Black photojournalists. The powerful photographs by Ernest Withers, for example, capture acts of bravery and of prejudice at the trial. Photographs of the funeral are fundamental to the story and are included. The famed images Mamie Till wanted "to let the world see," however, are readily found elsewhere should one wish to bear witness.
The exhibition continues with images of many exhilarating moments of the Civil Rights movement that followed and concludes with a photograph taken last year by Deborah Watts, Emmett's cousin, of President Biden signing the "Emmett Till Antilynching Act." Although sixty-eight years have passed, the images, lessons, inspiration, and courage of this singular tragedy can and must continue to educate, provoke, and inform today's generation. This is the "Impact of Images."
The materials that contributed to this exhibition come from The Withers Collection, the Medgar Evers family and the Emmett Till Legacy Foundation, among other sources. Co-curator Chris Flannery gathered these historic photographs originally as support for the production of the 2022 film Till. Orion Pictures has generously made them available for this exhibition, which will feature screenings of the film and other public programs.
Related Events
Winter Reception
Saturday, February 10, 3-6pm
Free and open to the public
The Impact of Images is curated by Chris Flannery, CEO of 1966 Americas, and Charles Long, Professor of Art at UCR. Programs at UCR ARTS are supported by the College of Humanities, Arts, and Social Sciences (CHASS) at UCR, and the City of Riverside.
Image: Mamie Till talks to the Black press corps at the Tallahatchie County Courthouse in Sumner, Mississippi after her appearance and testimony at the trial caused so much furor that a recess was called. 1955. Courtesy of the Bettmann Archive.