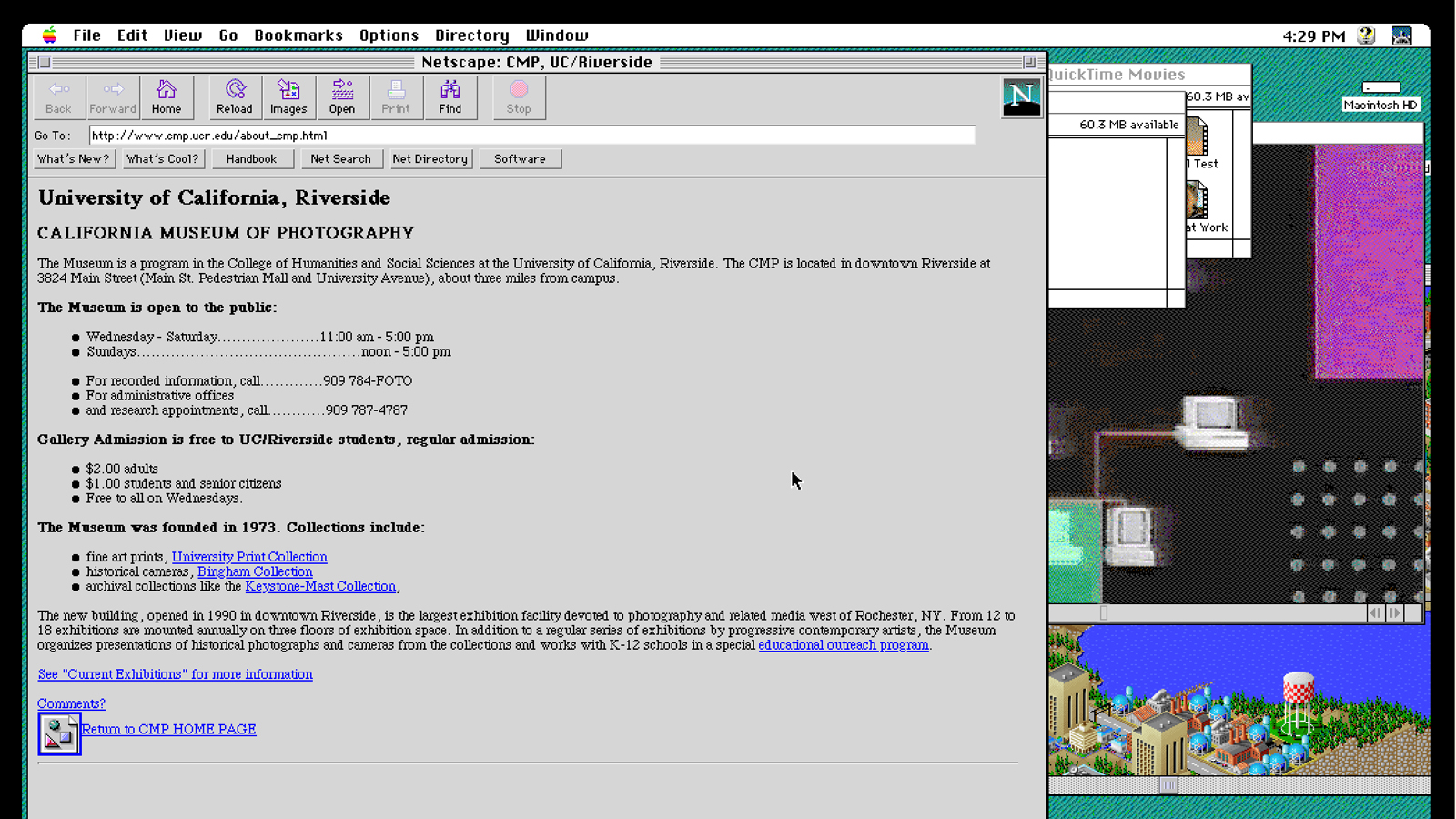 The Early Websites of the California Museum of Photography
California Museum of Photography
April 15, 2023 to September 24, 2023
In the early 1990s internet usage was in its infancy, with only a small percentage of the population having access. According to data from the Pew Research Center, in 1995 just 14% of American adults used the internet. By 2000, that number had increased to 53%, and by 2009, it had reached 76%. Today the internet is ubiquitous; billions of people around the world log on from a variety of devices.
The California Museum of Photography (CMP) had its first presence on the internet as early as 1993 on the Gopher protocol (an early alternative to the World Wide Web) and launched www.cmp.ucr.edu on the World Wide Web on October 12th, 1994. That year, the museum received an Apple Library of Tomorrow grant which provided a significant donation of Apple computers and software. Through that support, the museum was also able to tap into a T1 high-speed data line at the UC Riverside campus and begin showcasing exhibitions and collections online. By 1997, the museum's website was being visited by 35,000 unique IP addresses each month. At the turn of the millennium, the museum's website grew to host hundreds of images and dozens of exhibitions. These exhibitions were organized into "micro-sites" designed to offer a virtual experience of the physical exhibitions and provide supplementary text and media. The museum also developed standalone artist projects, educational initiatives, and public programs to be showcased virtually.
Web design aesthetics have changed dramatically since the 1990s, with advances in technology allowing more sophisticated and interactive designs. In the early days of the Internet, websites were simple, with limited graphics and basic layouts, in large part dictated by the limitations of hardware, software, and network capabilities. Websites created by the CMP stretched those capabilities to their fullest, with pages containing a variety of media (including images, audio, video, and even virtual 360-degree panoramic tours). This exhibition explores some of these early micro-sites and pays tribute to the staff, artists, students, and volunteers who built the early web presence of the museum.
Maintaining, preserving, and exhibiting legacy web and computer systems poses a number of challenges. Among them, obsolete software and programming languages, changes in operating systems, lost or damaged code, and outdated hardware serve as significant roadblocks to faithfully reviving websites from the early days of the internet. As a result, some websites in this exhibition have broken links, missing images, or unreadable files. Despite those challenges, the CMP continuously works to preserve its digital history.
Related Events
Spring Reception
Saturday, April 15 | 6-9pm
Free and open to the public
PhotoSite is curated by Nikolay Maslov, Curator of Film & Media Projects at UCR ARTS. Exhibitions at UCR ARTS are supported by the College of Humanities, Arts, and Social Sciences at UCR, and by the City of Riverside.
Image: CMP's "about page" displayed via Macintosh System 7 emulator, courtesy of UCR ARTS