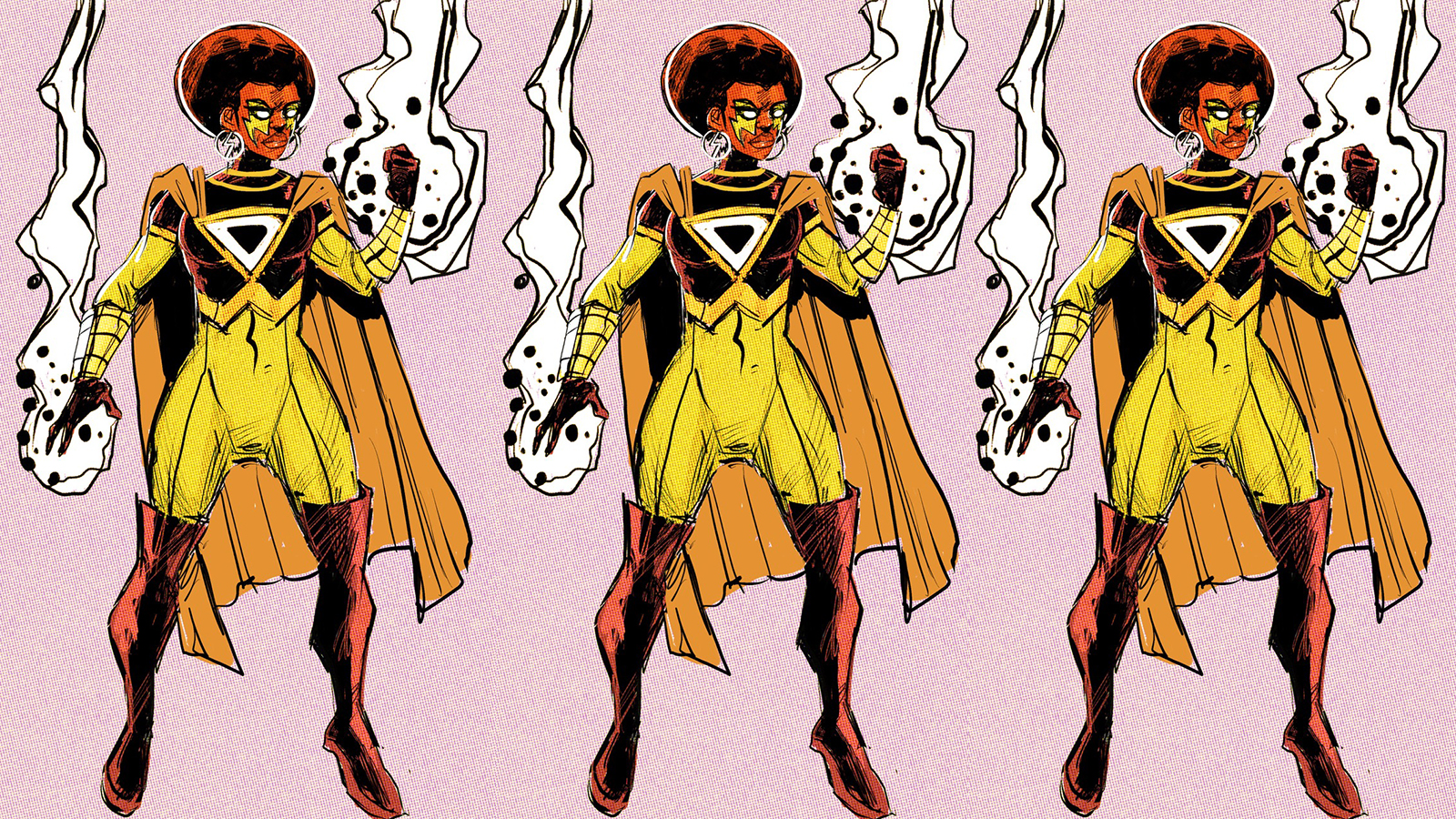 Whatever Happened to Dyno-Woman
The Alternative History of an Afrofuturist Icon
Culver Center of the Arts
February 10, 2024 to August 18, 2024
Dyno-Woman was introduced in television series Good Times (1974-1979) by Jimmie Walker's James "J.J." Evans character. Creating the character gave "J.J." enough means to move out of the notorious Cabrini Green housing project in the series finale "End of The Rainbow". Black Kirby use this fantastic premise to invent a superhero narrative for Dyno-Woman throughout the various eras of mainstream comics. The potential in the idea of Dyno-Woman resonates with the reality of African-Americans overcoming the limitation assigned to Black spaces in urban America. Whatever Happened to Dyno-Woman is a "design fiction" that captures the aspiration and resilience exhibited by Black families that navigate the negative effects of ghettoization in public housing.
Whatever Happened to Dyno-Woman marks the fifth collaboration between UCR ARTS and Black Kirby. Previous projects include Black Kirby X: Ten Years of Remix and Revolution, Ebon: Fear of a Black Planet, Reflection Eternal: The Candyman Illustrated Syllabus, and Uncaged: Hero for Higher.
BLACK KIRBY is a shared pseudonym that is Stacey Robinson (Associate Professor of Graphic Design and Illustration, University of Illinois at Urbana–Champaign) and John Jennings (Professor of Media and Cultural Studies, UC Riverside). Black Kirby functions as a rhetorical tool by sampling and remixing comic legend Jack Kirby's bold forms and energetic ideas combined with themes centered around Afrofuturism, social justice, representation, magical realism, and using the culture of Hip Hop as a methodology for creating visual communication. It also utilizes the notion of an alter-ego as a symbolic allegory for DuBoisian "double- consciousness" theory. In a sense, Black Kirby uses the comics medium as a conceptual crossroads to examine identity as a socialized concept through bricolage, pastiche, oppositional juxtapositions, and deconstruction. It is the artists' hope to destabilize various ideas of "blackness" to promote a broader spectrum of black subjectivity.
Whatever Happened to Dyno-Woman is organized by Black Kirby and UCR ARTS. UCR's College of Humanities, Arts and Social Sciences and the City of Riverside provide support for UCR ARTS programs. This exhibition is co-sponsored by the Piranha Jones Memorial Foundation. 
Image courtesy of Black Kirby.
Related Events
Winter Reception
Saturday, February 10, 3-6pm
Free and open to the public