Candyman and the Whole Damn Swarm
A collaboration between the Centre for the History of the Gothic at the University of Sheffield and University of California, Riverside
Brianna Salazar — 'I'm the Sweet Smell of Blood on the Streets'
My name is Brianna Rose Salazar, and I'm currently a student at California State University, Fullerton. I'm a first-generation American, and I've been given a chance to study what I'm passionate for thanks to my supportive family. I've pursued writing and photography since I was in high school, and I've been focusing on film and television in my studies. Photography is something I've been expanding upon this summer, and my hope is to work in the film industry within the areas of writing and directing. My dream is to tell stories, create films, and bring underrepresented voices to the big screen.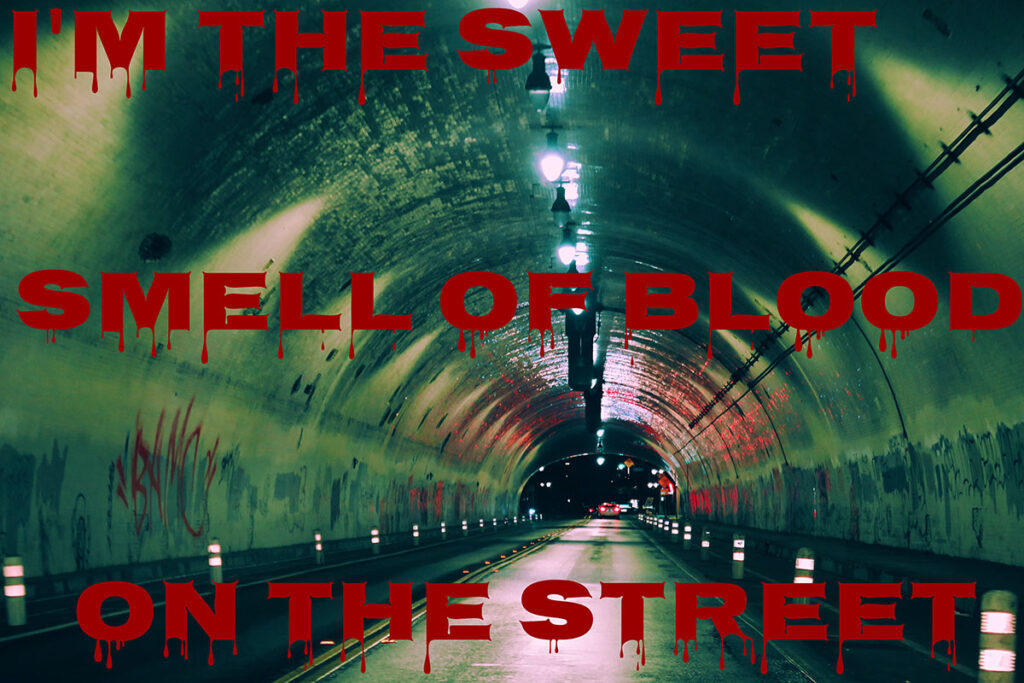 Harriet Stilley — 'Shadow Stories'
Dr Harriet Stilley is an early career researcher in American literature, with specialist teaching and research expertise in late-20th and 21st-century US fiction, genre theory, critical race theory, and masculinity studies. Since receiving her doctorate from the University of Edinburgh in 2017, she has held teaching and research positions at the University of Edinburgh, Edinburgh's Institute for Advanced Studies in the Humanities, the University of Oxford's Rothermere American Institute, and the National University of Ireland, Maynooth. She is the author of From the Delivered to the Dispatched: Masculinity in Modern American Fiction, 1969-1977 (Routledge, 2018) and co-editor of the collection American True Crime in the Twenty-First Century Re-Examined: Critical Interventions in a National Obsession(Edinburgh University Press, 2022). Harriet is the current Co-Editor-in-Chief of the Gothic Nature Journal and Reviews Editor for the European Journal of American Culture. Inspired by her love of horror fiction and film, she began embroidering in 2021.
xavia-margrith — 'Unseamly', 'A Metamorphosis', and 'Un Petite Morte In the Key of "Here I Go" by Mystikal'
Seeded in Minnesota's tundra, seasoned by Southern love, and Philly-fed, xavia-margrith miles is a creative writer, material assemblist, and beloved strangling. Inspired by things-that-go-bump-in-the-night and sparkle-in-sunlight, xavia-margrith's creations employ fantastical landscapes and humorist sensibilities to contemplate intimacy, grief, and isolation in horror films, monsters, erotica, music, and representations of the sacred as vessels of our fears and longings.
In xavia-margrith's role as a grant writer and abolitionist, she identifies funding opportunities and composes authentic and evocative stories to redistribute wealth toward community-led reimagining and cultivating of liberating spaces. In the legacy of critiques of and wrestling with imperial domination and lovelessness, xavia-margrith's work attempts to disrupt apathy and nurtures play to achieve a freer and more compassionate present and future.
xavia-margrith earned her AB in English and minor in Africana Studies from Bryn Mawr College. Continued areas of study include African traditional religions, thanatology, and feminist theory.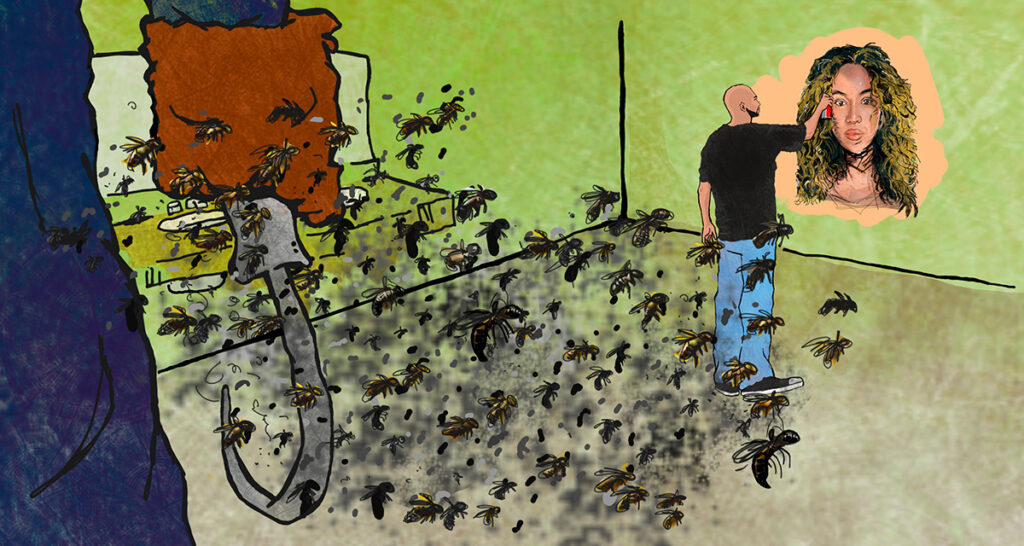 Darrell Jones — 'candyman_ill'
Bold energetic lines, bright colors, and interesting composition are the essentials of my work. I'm inspired by storyboard compositions, graffiti art, and rough line quality. Born in Memphis, Tennessee from a family of eight, I started doing art at an early age. Motivated by my mom to take it seriously, I attended college after high school. I enrolled in Jr College in Memphis and from there to Jackson, Mississippi. During my senior year, I became interested in animation. After graduating, I moved to L.A. where I studied animation for a couple of years and began to work between the two mediums. I enjoyed both the Mississippi and California experience and reflect that in my work.
@Richie_the_Caterpillar — 'I am the writing on the wall: 1', 'I am the writing on the wall: 2', 'I am the writing on the wall: 3'
I am the writing on the wall:
A tribute to Bernard Rose's gothic masterpiece. A near-perfect Horror movie, a modern folktale that continues to shock and entertain fans of old and new. I have designed Candyman in several different mediums in the last few years but the animated flashbacks in the 2021 sequel/reboot inspired me to design my own interpretation.
My Name is Richie, I go by @Richie_the_caterpillar on Instagram. I've been a huge fan of Horror my whole life. Being a black artist specifically in the Horror genre, Candyman has always been special to me. I even find merit in the sequel Farewell to the Flesh and The Forbidden is my favourite short in the Books of Blood series. I am extremely grateful to be featured in this gallery and I'm inspired to create a fully illustrated Candyman piece in the future.
Chelsea Hayes – 'Revelations'
My name is Chelsea Hayes and I am a poet originally from Texas and residing in beautiful San Diego, Ca. Ever since I can remember as a child, I have printed out and purchased other peoples beautiful words and prayed that one day I would have something of my own to say. Once I found my voice, the words just poured out of my like a waterfall. My desire is to inspire women of all races and creeds to discover the beauty and freedom that comes from allowing their hearts to speak. Insta: @chlchayes
Deon Donovan – 'Laugh At Your Leisure'
Deon Donovan is a screenwriter based in Orlando, Florida.  Whenever he is not writing, he's taking in the sun at the beach or lounging at the pool. Deon is currently attending Full Sail University for a bachelor's degree in creative writing to take his skills to the next level.
LDorado Jonez – 'Candyman: Cabrini vs Shaolin'
Candyman: Cabrini vs. Shaolin tells the story of a Black man tortured and killed in the 1800s
by a vicious white lynch mob after it is discovered that he has been having a passionate relationship with a white woman. For reasons not known to this world, the man's spirit is unable to rest, but is instead locked in the land of the living; existing in a brutal cycle of vengeance and murder in what was once his small town [now in 1992, the notorious Cabrini Green Housing Projects]. Fueled by rage and retribution, the apparition now known as Candyman opens a vortex linking Cabrini Green to the Park Hill Housing Projects in Staten Island, New York, locally known as Shaolin. Through this mystic portal, he summons 10 Shaolin warriors known as The Wu-Tang Clan to unwittingly carry out his blood stained crusade as his "Killer Bees".
Will The Wu-Tang be Candyman's agents of revenge? Will he find peace before Cabrini is turned into a mass open grave? The answers lie within…
Candyman: Cabrini vs Shaolin is the brainchild of LDorado Jonez. LDorardo is a multidisciplinary artist born and raised in Harvey, IL. He is a professional graphic designer, illustrator, fashion designer, recording artist, and actor. Through his brand, Sibley & Sunset, LDorado is able to deliver his unique perspective and style to the world in exciting and ever evolving ways. Much of his work can be seen on his website, www.sibleyandsunset.com, as well as @LDoradoJonez across social media platforms.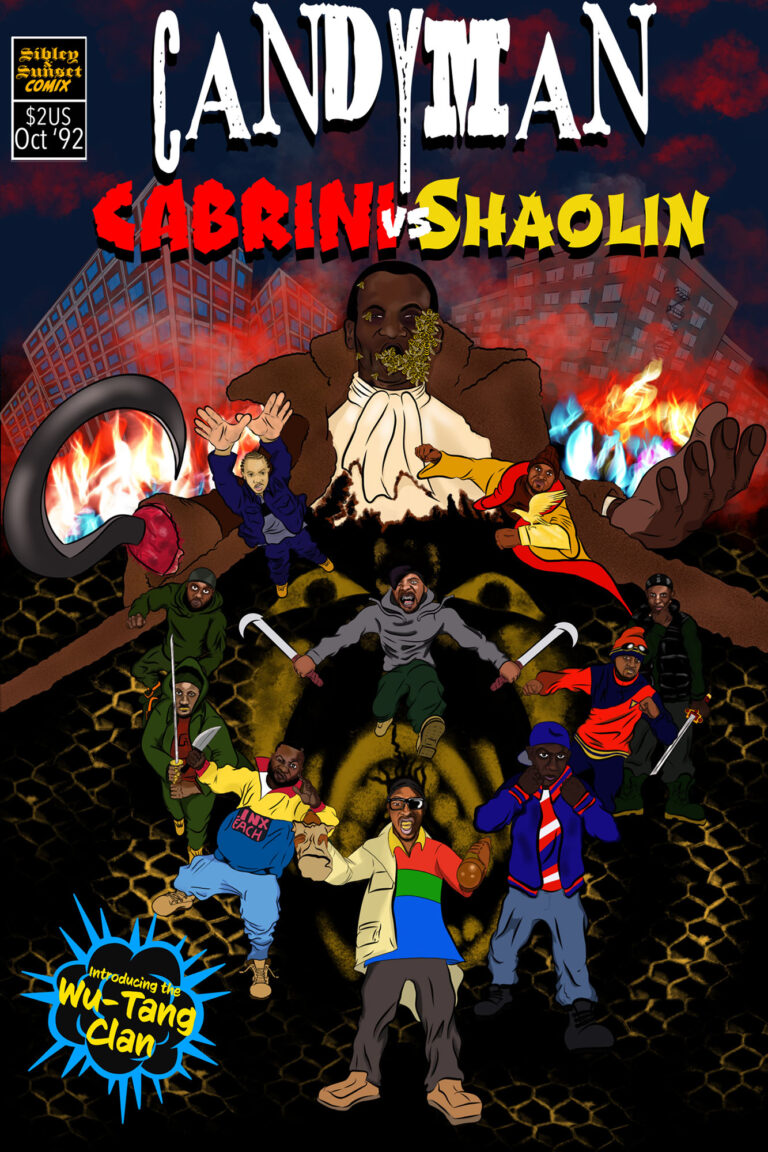 Venus Se7en (poetess) and Tanya Gut (illustrator) – 'Lord of Cabrini'
Venus Se7en is a Jupiter-native seasonally earthbound to tell written and visual stories, sometimes in the performance art of mime. She has extensively worked in content creation as a video editor/videographer, photographer, and writer/director for the past se7en years.venus-se7en.space. Tanya Gut is a 2D artist and illustrator specializing in character design, conceptual art, book covers, and digital and traditional painting. Connect with her on fiverr.com/tanyagut.
In 2021, Venus self-published her debut poetry book, Old Souls, and formed a blog, BE WRITE BLACK. Presently, Venus cohosts the NFT Poetry Lounge on Twitter Spaces. More on the superfly, Sagittarius is among the stars of her macrocosm,
Anthony Galatis – 'Sweet 19c' and 'The Bride of Candyman'
My Name is Anthony Galatis. I am a freelance illustrator / Concept artist, based in Athens, Greece.  I work as a key and concept artist in the gaming and indie film industry. I love dark fantasy, 80's cinematography, pop culture, retro sci-fi, good music cats, and horror films.
My work has been featured recently in:
John Carpenter's "The Thing Artbook" by Printed In Blood.
Clive Barker's "Hellraiser Anthology" volume one and two.
"Stranger things Artbook" by Netflix and Del Rey books.
AMC Preacher.
"Ghostbusters art book" by Insight & Titan editions.
35-anniversary Aliens art book by Titan editions.
The Mandy artbook, by SpectreVision, posterspy and The Torturer poster, by little spark films.
John Carpenter's "Halloween artbook" by Printed In Blood.
Jason Douglas Louie – 'Not To Have To Be'
D. Louie is a Howard University Alum where he was a cartoonist for The Hilltop student newspaper. He has written audio drama scripts for Aural Stage Studios, with their fantasy series Otherworldlies now available on Apple Podcasts and many other platforms. Louie would later go on to be named a quarterfinalist for the BET and Color Creative Script to Screen Contest, as well as a semifinalist for the MACRO Episodic Lab Powered by The Blacklist. His work as a freelancer and ghostwriter ranges from penning greeting cards for American Greetings to speeches for West Wing Writers speechwriting firm in Washington D.C. As an author, his short story "Birthday Boy" has been published on TheRoot.com's It's Lit! literary series. He can be found at jasondouglaslouie.weebly.com
Xavier Leflore – 'Candyman: The Hive'
Hello, My name is Xavier Leflore by the way of Mississippi and currently living in Los Angeles. Im a growing actor who loves to give a thrill and at times laughs. My favorite genre is thriller, action comedy, and dramadey. I would love to be known as a great actor , creator and director.  I live by the quote, " Don't just be, Be the best!"
Thank you for your time and Enjoy the short!
Sofia Bell – 'grey matter 22.'
The piece is inspired by the movies 'Videodrome' and 'A Clockwork Orange'. In 'Videodrome,' media and its impact on perception and the politics surrounding its effect on the masses felt relevant, especially, as I observed the responses to changes in policy. From one catastrophe to another, I've gathered this reoccurring sense of dread from social media users in response. In 'A Clockwork Orange,' the Ludovico Technique inspired thoughts about how a person might intentionally change their way of thinking and the autonomy behind that decision. I wanted to explore awareness, choice in perception, and desire to change.
Will Roberts and R.N. Marcel – 'Kamen no kyandiman'
Wil Roberts is a writer working at the intersection of futurism and blackness. Native to digital spaces, he also designs and thinks critically about interactive media. Wil's most recent piece Gamez n the Hood: The Cool Pose and The Black Man of 'Grand Theft Auto: San Andreas' was featured in Pour Vida Zine.
R.N.Marcel (猟奇・ネグロ・マーセル) is an illustrator focused on visual storytelling and diy independent publishing. They have worked on storyboarding and concept art for music video production and aid artists in zine production and distribution. A mysterious force, Marcel is scheduled to release horror comic projects with Wil Roberts in the near future.
Black Kirby – 'Reflection Eternal: The Candyman Illustrated Syllabus'
Reflection Eternal: The Candyman Illustrated Syllabus, from the Black Kirby duo, explores the various possible social meanings of this haunted and horrifying spirit via a collection of installations, digital media, and printed artwork. BLACK KIRBY is a collaborative "entity" that is Stacey Robinson (Associate Professor of Graphic Design and Illustration, University of Illinois at Urbana–Champaign) and John Jennings (Professor of Media and Cultural Studies, UC Riverside). Black Kirby expands the language of comics from artistic medium to conceptual crossroads to examine identity as a socialized notion. It is the artists' hope to destabilize various ideas of "blackness" in order to promote a broader spectrum of black subjectivity.
John Jennings – 'The Strange Case of Clifton Battle'
John Jennings is a Professor of Media and Cultural Studies at the University of California at Riverside. Jennings is co-editor of the Eisner Award-winning collection The Blacker the Ink: Constructions of the Black Identity in Comics and Sequential Art, and co-author of Parable of the Sower, the graphic novel adaptation of Octavia Butler's novel of the same name which was nominated for the 2021 Hugo Award for Best Graphic Work. Jennings is also a 2016 Nasir Jones Hip Hop Studies Fellow with the Hutchins Center at Harvard University. Jennings' recent projects include the horror anthology Box of Bones, the coffee table book Black Comix Returns (with Damian Duffy), and the Eisner-winning, Bram Stoker Award-winning, New York Times best-selling graphic novel adaptation of Octavia Butler's classic dark fantasy novel Kindred. Jennings is also founder and curator of the ABRAMS Megascope line of graphic novels.
Cole Morris – 'Institution'
I am a 21-year-old mixed race multi-media Artist from Sheffield, England, and I am currently a Fine Art student at Liverpool John Moore University. My work encompasses animation, film, photography, drawing, print and costume design.
I am the writer and director of the short film '20 Nights', a film exploring the impact of dreams, and also the cinematographer and editor of author Johny Pitts's short film, 'Spirits of Dead Buildings'. Both films screened at 'Sensoria' Film Festival in Sheffield 2021.
In 2021, I was the Soundscape artist for 'Dig Where You Stand', Bloc Projects. My most recent film, 'Institution', is a shadow puppet animation inspired by Candyman (2021) that considers institutional racism, violence and colonial exploitation through a world of demons, monsters and grotesques past. 'Institution' will be released this October (2022).
Credits
Candyman and the Whole Damn Swarm is a 30th anniversary project celebrating and exploring the legacy of the 1992 cult horror film Candyman and everything connected to the iconic story. The project is a collaboration between the University of Sheffield and the University of California, Riverside. #TellEveryone