TRANSFERENCE
Gluck Contemporary Dance Ensemble
March 6, 2022 11:30am
Performance
Free Admission!
UCR ARTS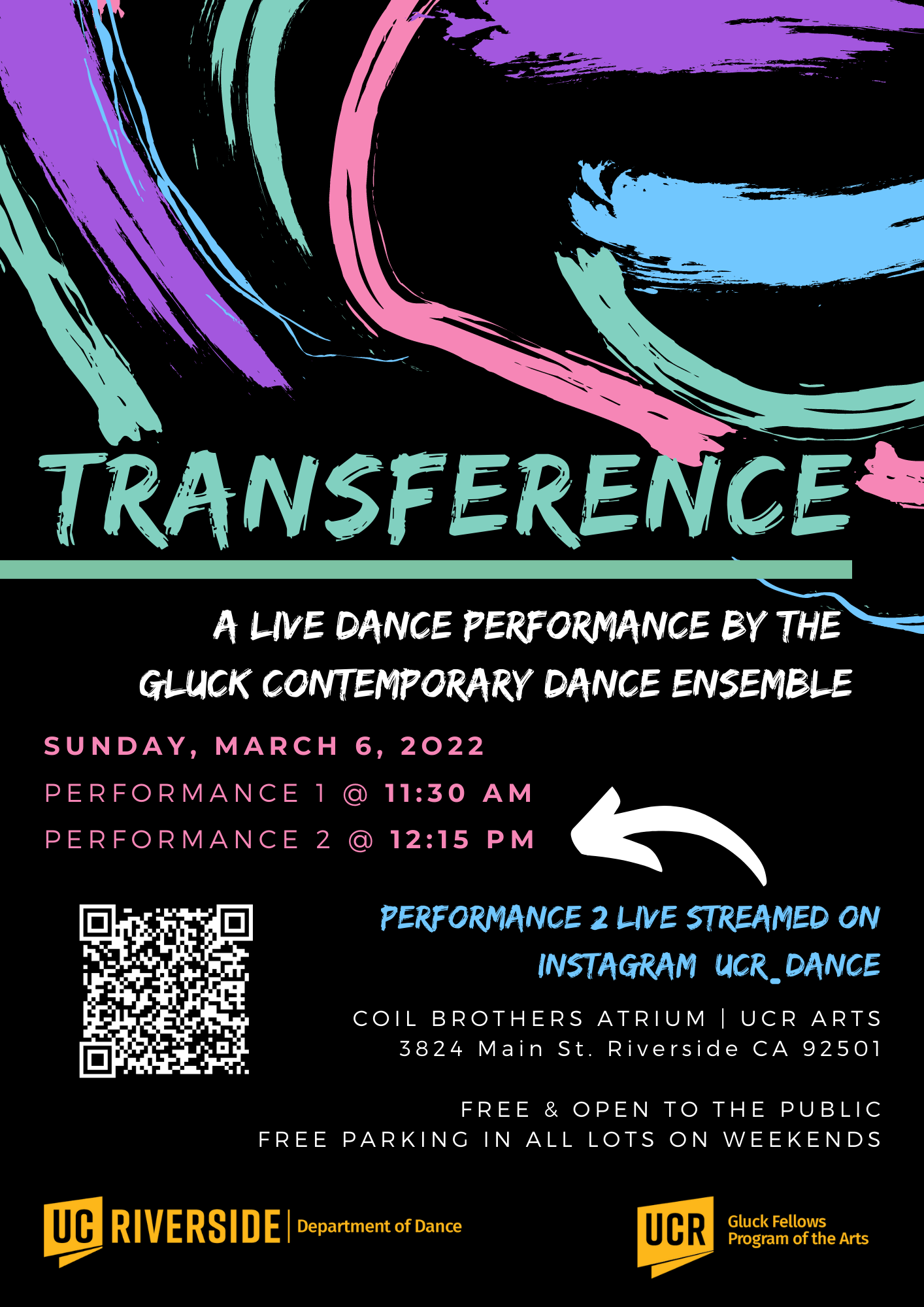 Choreographer: André M. Zachery
Dancers: Imran Afzal, Jessica Barajas, Brianna Gomez, Ami-Maxine Hill, Hana Kondo-Bacon, Susana Saldivar
Gluck Dance Coordinator/Grad Leader: Magnolia Yang Sao Yia
Sound: "A Wise Tale" by Abstract Mindstate, "Comet Course" by Flying Lotus, "Comet, Come to Me" by Meshell Ndegeocello
Description:
Transference is a 10-minute dance performance that looks at what it means to inherit a space, a ritual, a history, a vibe, and add one's own narrative to a lineage. African Diaspora traditions across Black cultural landscapes are passed from one generation to the next. This dance calls upon various movement traditions that span from Hip hop vernacular, Capoeira, and dance-hall alongside sonic variations of Hip hop, electronic dub and contemporary electro-acoustic rock, to expand on Afrofuturist explorations of collective resistance.
Choreographer bio:
André M. Zachery (b. 1981) is a Brooklyn-based interdisciplinary artist of Haitian and African American descent, and is a scholar, researcher and technologist with a BFA from Ailey/Fordham University and MFA in Performance & Interactive Media Arts from CUNY/Brooklyn College. As the artistic director of Renegade Performance Group his practice, research and community engagement artistically focuses on merging choreography, technology and Black cultural practices through multimedia work. André is a 2016 New York Foundation for the Arts Gregory Millard Fellow in Choreography, a 2019 Jerome Hill Foundation Fellow in Choreography and a Bessie Nominee for Breakout Choreographer in 2021.
​As a scholar he has been a member of panels, led group talks, facilitated discussions and presented research on a myriad of topics including Afrofuturism, African Diaspora practices and philosophies, Black cultural aesthetics, technology in art and performance and on expanding the boundaries of art making within the community. He has been a panelist and presented his research at institutions such as Duke University, Brooklyn College, University of Virginia and Massachusetts Institute of Technology. André has taught at Brooklyn College and been a guest faculty member at the dance programs of Florida State University, Virginia Commonwealth University, The Ohio State University, University of California Los Angeles and University of California Riverside.