Now Hear Ensemble
Outpost Concert Series 2021-22
April 6, 2022 7:00pm
Performance
Free Admission!
UCR ARTS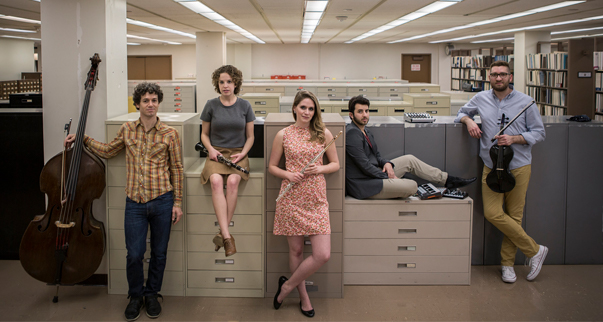 Now Hear Ensemble combines the intimacy of the classical concert experience with electronic music, video art, installation art, and contemporary theater, embracing both contemporary music and pop culture, as they believe a cross-genre approach leads to new territory for creativity.
Based in Los Angeles, the Now Hear Ensemble has performed at renowned venues such as the Roy and Edna Disney/CalArts Theater (REDCAT), the Center for Computer Research in Music and Acoustics (CCRMA) at Stanford University, the Center for New Music and Audio Technologies (CNMAT) at UC Berkeley, the Conrad Prebys Music Center at UC San Diego, the Center for New Music in San Francisco, the Fisher Museum at the University of Southern California, the Santa Barbara Museum of Art, the Museum of Contemporary Art in Santa Barbara and the Carlsbad Music Festival. Now Hear has held residencies at Avaloch Farm Institute, UC Irvine and UC Santa Barbara and has had their music featured by BBC Radio 3.
Since their founding in 2012, the ensemble has commissioned and premiered over 25 new works from composers such as Florent Ghys, Dan VanHassel, Carolyn Chen, Anthony Paul Garcia, Nick Norton, Constantin Basica, Joshua Carro, Jon Myers, Luke Taylor, Federico Llach, Marc Evans, Anders Lind, Mateo Lugo, Daniel Miller, Fernando Rincón Estrada, Eoin Callery, Kevin Zhang, David Gordon, Iván Naranjo, Brandon Rolle, Mason Hock, Heena Yoon, David Werfrelmann, and Todd Lerew. Past projects have included a collaboration with California-based composers that resulted in their debut album and tour, "Made in California," as well as commissions of  installations and concert music made with bicycle wheels, paper shredders, ping-pong tables, megaphones, and custom-made instruments.
The Outpost Concert Series presents virtuosic and dynamic performances of music that fearlessly explores groundbreaking territory. Our featured artists come from across the country and connect Riverside's musical culture with a larger, national scene.