In Person Event
Free Admission
UCR ARTS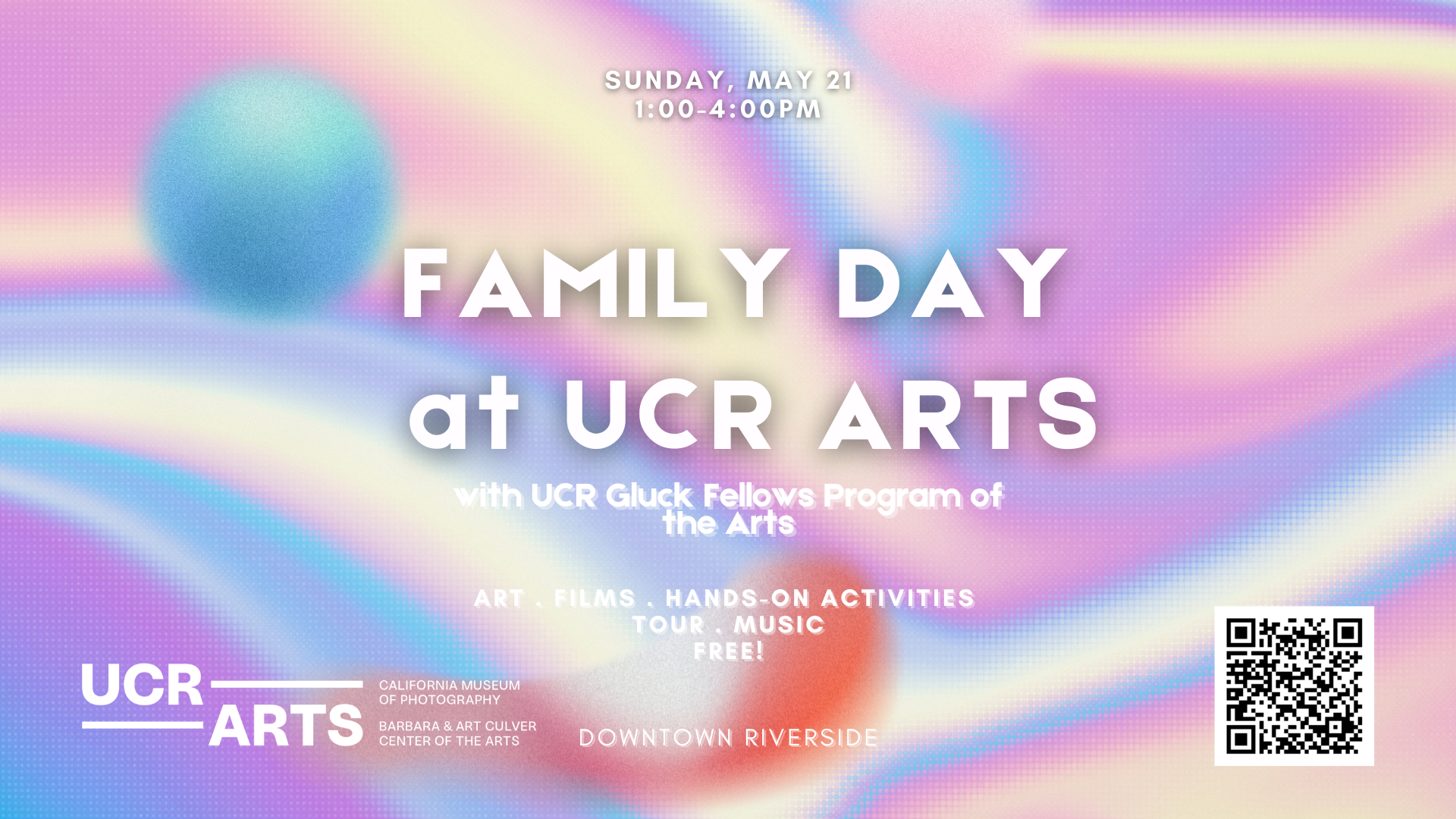 Join us for an afternoon of free art activities, tours, films, and music! The California Museum of Photography is celebrating its 50th anniversary this year so it's the perfect time to explore early photographic processes through hands-on activities and see the extensive collection of cameras and photographs! Don't miss the exhibition of photographs by Inland Empire middle school and high school students inspired by photographic artist, Christina Fernandez, on view at the CMP third floor and check out the walk-in Camera Obscura room! Watch documentary shorts created by high school students from the Off the Block Documentary Filmmaking Workshop in the Culver Screening Room!
1-4pm – Art Activities in the Atrium with Gluck Fellows
Cyanotypes (sun prints) with

 

Gluck

 

Fellow Sarah Faulk
Button making with

 

Gluck

 

Fellow Thalia Williamson
Tote bag drawing with

 

Gluck

 

Fellow Lily Felsenthal
Blackout poetry table with

 

Gluck

 

Fellow Rachel Whitfield
Early photography realia table by the UCR Visual Resources Center with Sonja Sekely-Rowland
Early 3D viewers with Keystone-Mast Stereo Collection
1-4pm – Storytelling Through Photography: Inland Empire Students Inspired by Christina Fernandez exhibition
1-4pm – Walk-in Camera Obscura room
1-4pm – Documentary shorts created by Inland SoCal high school students from OFF THE BLOCK Documentary Film Workshop
1:30-3:30pm – Spanish guitar by Gluck Fellow Pedro Lopez de la Osa
2:00pm – Tour of CMP at 50 exhibition led by Gluck Fellow Elizabeth Carleton 
Family Day at UCR ARTS is supported by the Gluck Fellows Program of the Arts at UC Riverside. The Gluck Fellows Program is made possible by the generosity of the Max H. Gluck Foundation.