Conversations at the Culver
The Brothers Lee and Tod Goldberg: Crime Writers in Conversation with Susan Straight
November 5, 2023 | 1:30 pm
Literary Event
Free and open to the public
Culver Center of the Arts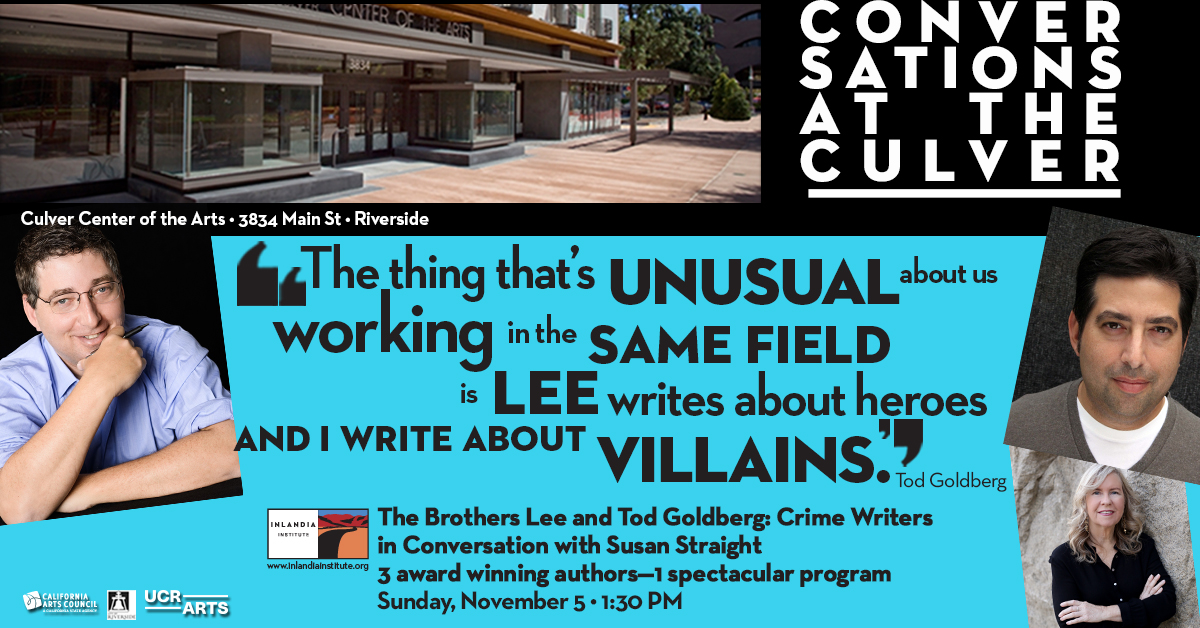 At 1:30 PM on Sunday, November 5, Inlandia Institute and UCR ARTS will host brothers Lee and Tod Goldberg, both New York Times best-selling crime writers, at the Barbara and Art Culver Center of the Arts for a conversation you won't want to miss. The Brothers Goldberg will speak with Riverside's own best-selling novelist Susan Straight about their working relationship as brothers who write – and how family ties and a connection to place have influenced their writing.
The Culver Center is located at 3834 Main Street in Riverside. Admission is free, but the program's content may not be suitable for all audience members. Book sales will be provided by Mystery Ink.
"I've been burying a lot of bodies in the desert for a long time," says Tod Goldberg in a recent joint interview with his brother Lee in The Orange County Register.
LEE GOLDBERG is a two-time Edgar Award and two-time Shamus Award nominee and the #1 New York Times bestselling author of more than thirty novels, including Malibu Burning, the Ian Ludlow trilogy, fifteen Monk mysteries, and five internationally bestselling Fox & O'Hare books co-written with Janet Evanovich. He has also written and/or produced many TV shows, including Diagnosis Murder, SeaQuest, and Monk, and is the co-creator of the hit Hallmark movie series Mystery 101. https://leegoldberg.com/
TOD GOLDBERG is the author of more than a dozen books, including Gangsterland, a finalist for the Hammett Prize; Gangster Nation; and The Low Desert: Gangster Stories, named a Southwest Book of the Year and a finalist for several literary prizes. He lives in Indio, California, where he directs the low-residency MFA in creative writing and writing for the performing arts at the University of California, Riverside.
SUSAN STRAIGHT was born in Riverside, California, where she still lives with her family. Her memoir, In the Country of Women (Catapult Books, 2020) was a national bestseller. It was a Best Book of the Year by NPR and CodeSwitch, longlisted for the Carnegie Medal for Excellence, and a Finalist for the Clara Johnson Prize for Women's Literature. Her latest novel is Mecca (Farrar, Straus and Giroux, March 2022).
Inlandia Institute is a regionally focused literary and cultural arts nonprofit and publishing house whose mission is to promote literary activity in all its forms throughout Inland Southern California and to celebrate the region in word, image, and sound. For more event listings or to learn more about Inlandia, visit www.inlandiainstitute.org.
This activity is supported in part by the City of Riverside and the California Arts Council, a state agency. Learn more at www.arts.ca.gov.