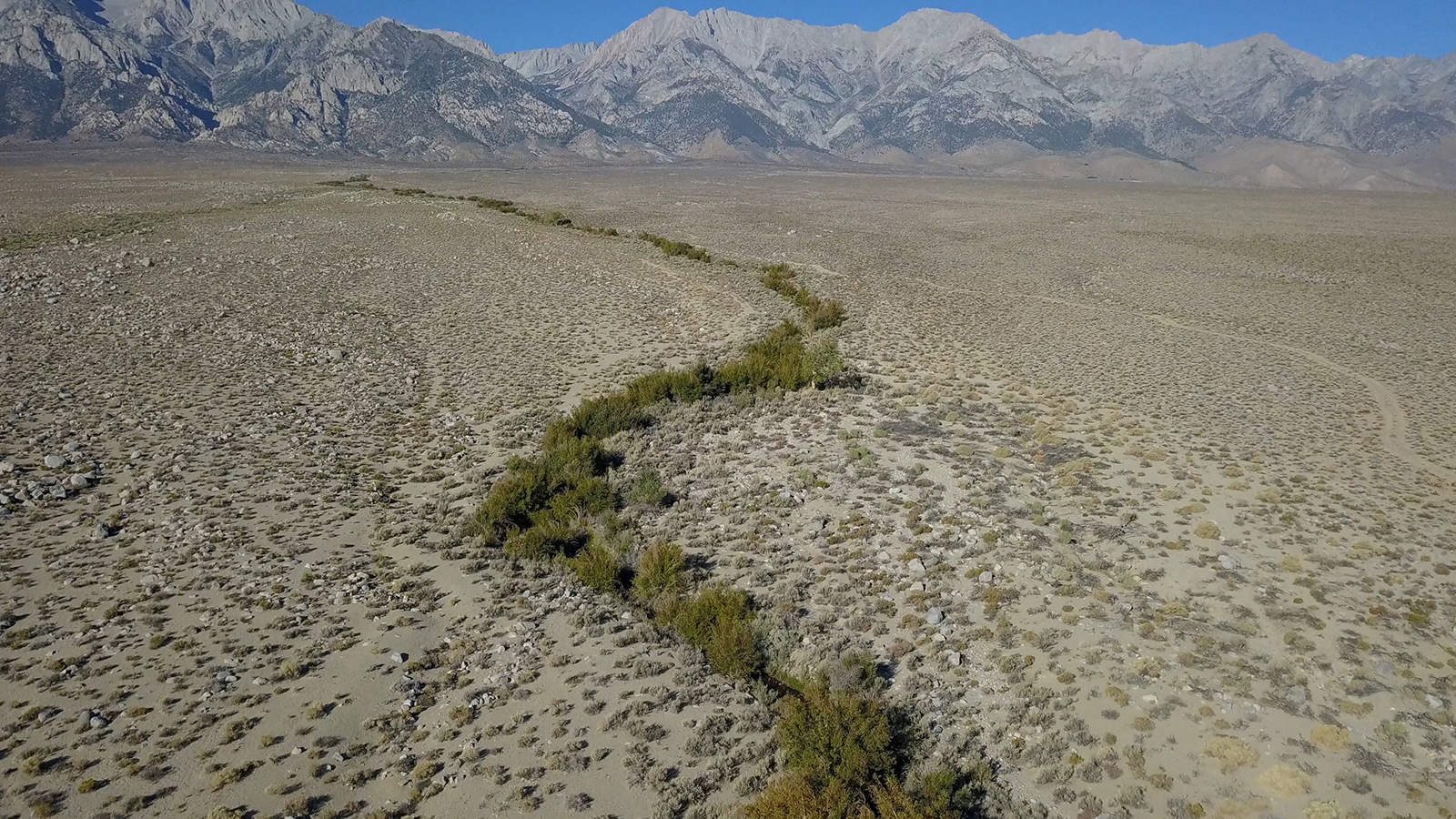 Manzanar Diverted: When Water Becomes Dust
October 14th, 2023 4:30 pm
Free Admission!
Screening of Manzanar, Diverted: When Water Becomes Dust, with musical performance by Alex Miranda (Payómkawichum/Pechanga Band of Luiseno Indians) and discussion with filmmaker Ann Kaneko and Miranda, followed by a reception. An inspired and poetic portrait of a place and its people, Manzanar, Diverted: When Water Becomes Dust focuses on the World War II concentration camp at the foot of the majestic snow-capped Sierra mountains as the confluence for memories of Payahuunadü, the now-parched "land of flowing water." Intergenerational women from Native American, Japanese American, and rancher communities form an unexpected alliance to defend their land and water.
Accompanies Climates of Inequality exhibition, organized by the Humanities Action Lab, University of California, Riverside (UCR), and 21 other localities. Program co-sponsored by UCR Pollitt Endowed Term Chair for Interdisciplinary Research and Learning.
UCR ARTS AAPI Film Series
Generously supported by the Voy and Fay Wong Family Endowment
Ann Kaneko is known for her personal films that weave her intimate aesthetic with the complex intricacies of political reality. An Emmy Award winner, her poetic feature, MANZANAR, DIVERTED: WHEN WATER BECOMES DUST, broadcast on PBS POV's 2022 line up. She is currently developing 45/45, a personal film about multigenerational families and cycles of life, and LAND, LABOR AND LOGISTICS, for which she is an 18th Street Arts Center California Creative Corps fellow. Credits include A FLICKER IN ETERNITY; AGAINST THE GRAIN: AN ARTIST'S SURVIVAL GUIDE TO PERU; OVERSTAY; and 100% HUMAN HAIR. Fluent in Japanese and Spanish, Kaneko has been a Fulbright, Japan Foundation Artist, Film Independent Doc Lab and Jackson Wild Multicultural Fellow. Funders include JustFilms/Ford, Doc Society, the Redford Center, CAAM, Vision Maker Media, Firelight Media, Chicken and Egg and Hoso Bunka Foundation. She teaches at the Claremont colleges and was the artist mentor for Visual Communication's Armed with a Camera Fellowship.
Alexander Miranda is a Payómkawichum (Pechanga Band of Luiseño Indians) contemporary artist from Southern California working in music composition and experimental music performance. Miranda creates compositions with his Array Mbira,(a handcrafted modern musical instrument with a unique harp- or bell-like sound. It is a radical redesign of the Shona African mbira from Zimbabwe and is part of the lamellaphone family) uses samples, and found recordings in his work. His portfolio honors and celebrates the power, resilience, and beauty of Indigenous people, incontestably aligning his work with worldwide Indigenous resurgence. Miranda has performed as a solo artist and with other ensembles across north america including at the Contemporary Art Gallery, Vancouver BC, Liquidation World, Vancouver BC, and The Regent Theatre, Los Angeles CA. Miranda's compositions have been commissioned by Louis Vuitton, Virgil Abloh and Lori Goldston. His score for the documentary Manzanar Diverted: When Water Becomes Dust was nominated for the Best Music Score by the IDA Documentary Awards in 2022. Miranda's photographic practice includes documenting portraits of different youth cultures around the world primarily the underground punk and skateboarding scenes in Southern California and the Pacific Northwest. His work has been published in Hypebeast Magazine, DUNK and Dazed Magazine. He has also published Northwest Passage, a book of photography. Miranda currently lives in Vancouver, BC, Canada.
Director: Ann Kaneko
Studio: Good Docs
Running Time: 84 minutes
Country: USA
Release Year: 2021
Rated: Unrated
"A fascinating documentary looking at Los Angeles' fraught history of how it gets its water sources…" – NPR