Conversations at the Culver
Celebrating Cultura: Chicana/o and LatinX Poetry & Spoken Art
Poetry Event
Free and open to the public
Culver Center of the Arts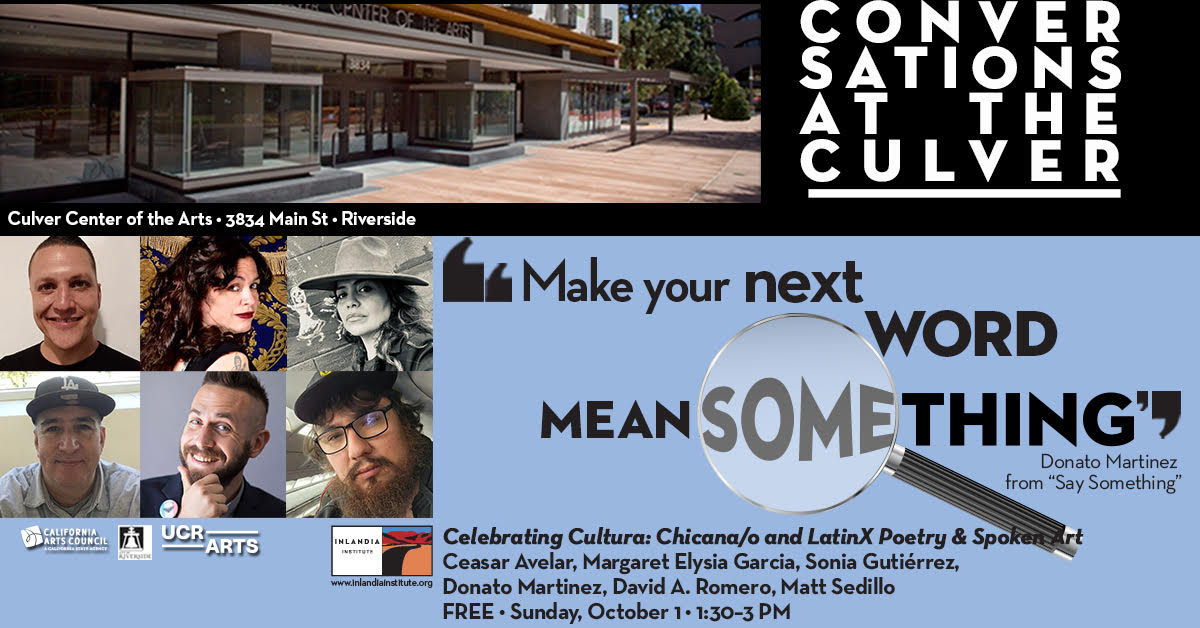 On Sunday, October 1, from 1:30-3:00 PM, please join Inlandia and UCR ARTS at the Culver Center for "Celebrating Cultura: An Afternoon of Chicana/o and LatinX Poetry & Spoken Art." In honor of Latino Heritage Month, the program will feature the diverse voices of poets who celebrate the culture of the Chicana/o and LatinX experience. Their narratives will both move and entertain you.
The illustrious "Celebrating Cultura" lineup includes:
Ceasar Avelar, the current Poet Laureate of Pomona. He is the writer in residence of Cafe con Libros Press, and founder of Obsidian Tongues open mic. Avelar writes through the sociological lens of a blue-collar worker. He is the author of God of the Air Hose and Other Blue-Collar Poems published by El Martillo Press. Avelar will soon graduate from Cal Poly Pomona with a Bachelor's degree in Sociology.
Margaret Elysia Garcia, author of the short story collection Graft, the chapbook Burn Scars, and a collection of poetry, the daughterland. She is co-editor of the anthology Red Flag Warning: Northern Californians Living with Fire, to be published by Heyday Books in 2024. She writes about family, culture and surviving climate change disasters.
Sonia Gutiérrez, author of Spider Woman / La MujerAraña and the recipient of the 2021 Tomás Rivera Book Award and the 2022 International Latino Book Awards for her novel, Dreaming with Mariposas. She is currently a Finalist for the "Book into Movie" Awards. She is working on her bilingual poetry collection, Paper Birds: Feather by Feather / Pájaros de Papel: Pluma Por Pluma and her first illustrated book, The Adventures of a Burrito Flying Saucer.
Donato Martinez, who was born in Garcia de la Cadena, Zacatecas, Mexico, and immigrated into the USA at six years old. He teaches English Composition, Literature, and Creative Writing at Santa Ana College, and has taught classes in Chicano Studies. He self-published Tacos de Lengua with three other Inland Empire poets. His poetry collection, Touch the Sky, was recently published by El Martillo Press. He was raised in Corona and resides in Riverside.
David A. Romero, a Mexican-American spoken word artist from Diamond Bar. He is author of My Name Is Romero (FlowerSong Press, 2020). Romero has received honorariums from nearly a hundred colleges and universities in thirty-four different states in the USA and has performed live in Mexico, Italy, and France. He co-founded El Martillo Press.
Matt Sedillo, who is hailed as the best political poet in America and "poet laureate of the struggle" by academics, poets, and journalists. He won the 2017 Joe Hill Labor Poetry Award and the 2023 Dante's Laurel. He is author of Mowing Leaves of Grass and City on the Second Floor and has spoken in eight countries. He is Literary Director of the Mexican Cultural Institute of Los Angeles and co-founder of El Martillo Press.
This activity is supported in part by the City of Riverside and the California Arts Council, a state agency. Learn more at www.arts.ca.gov.